EUROPEAN REPORT - SGP Riga
Tai Woffinden reached his first Final of the Grand Prix season in Riga on Saturday only to experience the frustration of an exclusion keeping him off the rostrum.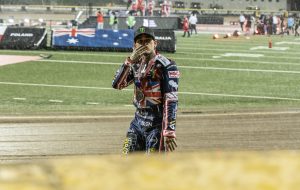 Images courtesy of Taylor Lanning Photography
Woffinden had produced his best performance of 2023 on a tricky track in Latvia, picking up 11 points in the qualifying races which left him second only to Fredrik Lindgren after Heat 20.
Crucially though, he had already been given a warning for movement at the start and that became significant in the Final.
Prior to that, the Semi pitched two Great Britain representative together as it also involved Dan Bewley, who scored eight points after a fast start to the meeting saw him open with two wins, although points became harder to come by in the second half.
The first running of the Semi saw Bewley brought down in first bend bunching, and the re-run saw Woffinden and Martin Vaculik go through at the expense of Jason Doyle and Bewley, with Lindgren and Bartosz Zmarzlik completing the Final qualifiers.
The decider was a long-running affair, stopped first after a fall for Lindgren who clashed with Zmarzlik going into the first bend – but the real drama came in the re-run when Woffinden, who was a little way back from the start line, made a slight movement and the race was stopped, with the GB man excluded.
When the race finally got going for real, Lindgren gated but Zmarzlik stormed past on lap two for his fourth GP win of the season to open up a massive 22 point lead at the top of the standings.
Bewley is the highest placed GB rider in sixth spot on 78 points, only seven behind Vaculik in third, whilst Robert Lambert is eighth on 71 after scoring seven points the Riga qualifiers and just missing out on the Semis.
Woffinden is now ninth on 60, and he is 18 points off the top six with three rounds remaining, starting at Cardiff on September 2.
The meeting was marred by a frightening crash for Danish racer Anders Thomsen in Heat 2, who required hand surgery after he was flung over the safety fence after an initial tangle with Doyle sent him careering towards the barrier.
In the PGE Ekstraliga, the play-offs got underway and all three quarter-final first legs resulted in away wins as Lublin, Czestochowa and Wroclaw took control of their ties.
Lublin were 47-42 winners at Torun after a string of early incidents with the home side helped by a 5-0 when both Lublin reserves were excluded, but the visitors moved clear in the second half of the meeting and achieved their result without the injured Jack Holder.
Jarek Hampel put up a great performance to score 11+1, missing out only in his final race, whilst Zmarzlik scored 11. Lambert picked up 9+1 from six rides for Torun, with Emil Sayfutdinov top-scoring on 12+1.
Czestochowa won 49-41 at Gorzow with a solid showing from their top five whilst Martin Vaculik kept the hosts in contention with 14+1, unbeaten after his first ride last place.
Szymon Wozniak won his first three rides for Gorzow but was then involved in a big crash in Heat 9 when he made contact with team-mate Oskar Fajfer and was excluded, before only adding two more points.
Meanwhile Wroclaw had tripped up when they visited Leszno in the regular league stage recently, but they made no mistake in the play-offs with a 48-42 victory.
Despite a below par showing from Maciej Janowski and a brilliant 16 points from Janusz Kolodziej for the hosts, the rest of the Wroclaw team fired as a unit with Woffinden scoring 9+2 and Bewley eight, both from five rides, and former Leszno rider Piotr Pawlicki top-scored with 10+2.
All three of the first leg winners will expect to progress with their home legs to come, although with the fourth semi-final place available to the best 'losers' the overall line-up for the last four is still uncertain.
The Division One regular season is now complete and Zielona Gora ended it with a perfect record of 14 wins out of 14, doing so with a huge 65-25 win over Rybnik – although remarkably no riders scored a maximum thanks to two late wins for Patrick Hansen.
Bydgoszcz finished second in the standings after a 48-42 win at Lodz, but there was an excellent show from Tom Brennan for the hosts as he scored a very encouraging 9+2.
Ostrow were third after defeating Gdansk 51-39 but this meeting was marred by the serious crash which left the visitors' Nicolai Klindt in hospital with neck injuries after Oliver Berntzon came to grief and collected Klindt and Francis Gusts.
A 49-41 win for Landshut over Poznan ensured that Lodz retained their Division One status despite their home defeat, as Poznan were relegated.
The quarter-final line-up will see Zielona Gora face Gdansk, Bydgoszcz will race Landshut and Rybnik will meet Ostrow.
In Division Two, Gniezno picked up two wins over the weekend and added six points to their total to go to the top of the table.
They won 53-37 at Rawicz on Saturday, and then added a 50-40 home win over Daugavpils on Sunday with Steve Worrall scoring seven points for the visitors.
Opole are off the top after losing 54-36 at Tarnow, with Adam Ellis scoring 6+1 for the visitors, whilst Pila pulled clear of the bottom with a 48-42 win over Rzeszow including four points from Dan Gilkes.