EUROPEAN REPORT - SGP Sweden & Euro Pairs
Dan Bewley celebrated his third career Grand Prix victory on his home Swedish track of Malilla with a remarkable late turnaround of events.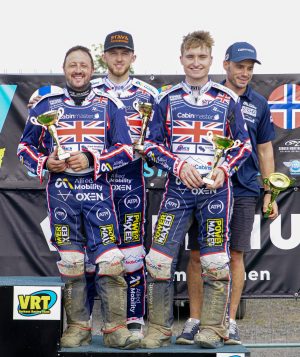 Image courtesy of Steve Hone Photography

Heading into the final bend of Heat 19, Bewley was going out of the meeting as he looked set to fail to add to his seven-point score in a meeting which had started promisingly with a win, but had seen him add just four points in his next three rides.
Bewley trailed Max Fricke, Andzejs Lebedevs and Robert Lambert, but crucially sneaked inside Lambert off the last turn – and in that moment, he moved from tenth to sixth on the scoreboard on the night.
That booked a Semi-Final place by the narrowest of margins, and left Lambert sweating on the outcome of Heat 20 as to whether his four second places would be enough to go through.
It did indeed prove the case as whilst Jack Holder went above both British riders with second place in that race, Tai Woffinden's last place left him on five points and outside the top eight.
Bewley lined up in the first Semi-Final and made it through along with Fredrik Lindgren as Holder's hopes were dashed and Max Fricke also went out – whilst the second Semi saw Patryk Dudek and Martin Vaculik make it through, with World Champion Bartosz Zmarzlik missing out on the Final for the first time this season, and Lambert unable to make headway from the outside.
Based on form during the evening, Vaculik and Lindgren were favourites for the Final, and this appeared to be the case as they held first and second during the race with Lindgren fending off Bewley – but then as he attempted a dramatic inside move at the end lap of lap three, Lindgren clattered into Vaculik and brought both riders down heavily.
Thankfully there were no serious injuries but Lindgren was excluded, and the re-run again looked set to be going Vaculik's way, with Bewley initially involved in a battle with Dudek for second place. But having cleared the Pole, Bewley made a hugely intelligent choice at the end of the third lap, finding grip on the inside in a similar move to the one he had made on Lambert, and shot past a surprised Vaculik and on his way to victory.
And it meant that in three Final appearances, Bewley has won all three, following on from his successes at Cardiff and Wroclaw last season.
Bewley is now in fifth place overall, level on points with Vaculik who is placed fourth and Jason Doyle who is sixth, and their score of 69 is ten behind third placed Holder (79) with Lindgren on 82 and Zmarzlik out in front on 102 with four rounds remaining.
Outside the top six, Lambert is eighth on 63, and Woffinden is ninth albeit with a larger gap to breach on 46.
It was the end of a busy weekend involving racing at senior and junior levels, with Chris Harris taking the lead in the FIM Long Track World Championship with his win over Martin Smolinski at Marmande on Thursday.
Harris then made the trip to Finland to compete for GB in the European Pairs Semi-Finals alongside Tom Brennan, and both scored nine points as GB went through in third place, just behind Denmark and the host nation. Jordan Jenkins was also in attendance as reserve.
GB also had involvement in the weekend SGP3 and SGP4 activity, with William Cairns finishing a highly creditable fifth in the SGP3, an event won by Sweden's Ramus Karlsson.
Cairns won three races and still had a shot at the title heading into his last ride, but in the end he was left just off the rostrum.
The second British rider Cooper Rushen gained plenty of experience at this level scoring four points, whilst in the inaugural SGP4 competition for 11 to 13 year-olds on 190cc machinery, Oliver Bovingdon scored a creditable six points as Denmark's Elias Jamil took the Gold medal.
There was no regular league racing in Poland last weekend, with the only meeting to take place being a re-arranged Division One fixture between Lodz and Ostrow. It was the visitors who emerged on top with a 49-41 win to secure their place in the play-offs, led by a 14+1 paid maximum from Tobiasz Musielak, and with Grzegorz Walasek adding 10+2.
Niels-Kristian Iversen scored 10+1 for Lodz but they find themselves in seventh place with just one match remaining, which is against Bydgoszcz, and by that stage the top six could be virtually out of reach.