EUROPEAN REPORT - SGP Vojens
The race for the 2023 World Championship will go down to the wire after an extraordinary day of drama in Denmark on Saturday.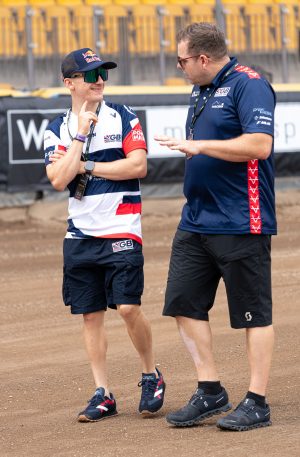 Image courtesy of Steve Hone Photography
Defending champion Bartosz Zmarzlik held a 24-point lead prior to the penultimate round of the series, but he ended up leaving Vojens even before the start of the meeting after being disqualified for an incredible oversight.
Zmarzlik appeared for qualifying practice wearing a racesuit featuring his personal sponsors and not his official Grand Prix suit, putting him in breach of the regulations.
He insisted this was a genuine error but the penalty was applied as provided for in those regulations, namely a fine of 600 Euros and disqualification from the event.
Second placed Fredrik Lindgren even spoke up in support of Zmarzlik, but when the event got underway he had the opportunity to close the gap at the top of the standings.
The Swede was successful in that regard as he finished second in the meeting, losing out to home star Leon Madsen on the last lap of the Final as the Dane clinched his first GP win in nearly four years.
But the 18 points gained by Lindgren leaves him just six behind Zmarzlik heading into the decider at Torun on September 30.
Yet Lindgren himself could easily have been leaving Vojens early after a frightening Heat 5 smash when he was clipped from behind by Jason Doyle with both crashing heavily. Doyle was ruled out of the remainder of the meeting whilst Lindgren raced on to second place, with Jack Holder completing the rostrum finishers.
The fourth Finalist was Robert Lambert, the Great Britain star riding superbly in the qualifiers to top the scorechart on 13 points, although he had a tough battle to overcome Mikkel Michelsen in the semi-final, and it meant he finished second to Lindgren.
Lambert was then unable to make it from gate four in the Final and had to be content with 14 points, a result which leaves him sixth in the standings on 97 points, two ahead of Madsen.
Dan Bewley is one point better off in fifth place on 98 after winning three races to score 11 points in the qualifiers.
Bewley saw his hopes of a fourth GP win dashed in the second semi-final when he lost out in a tight first turn to Holder, enabling Madsen to sweep around the outside.
The other battle ahead in Torun is for third place overall, with Holder and Martin Vaculik level on 113 points.
Bewley was back in action on Sunday in the PGE Ekstraliga Grand Final for Wroclaw at Lublin, and he delivered a truly sensational display to keep the injury-hit visitors in touch in the first leg.
Without Tai Woffinden and Maciej Janowski, many expected Wroclaw to go down to a heavy defeat, but in the event they limited the damage to 51-39 to give them a glimmer of hope ahead of this Sunday's return – although there is no confirmed word on whether either of the injured duo could return.
Bewley scored a brilliant 16+1 from six rides and was backed up by Artem Laguta with 12 and Piotr Pawlicki with 10, the three riders winning eight races between them to prevent Lublin from building any real momentum.
Jarek Hampel top-scored for the defending champions with 10+1 and Zmarzlik added 10, and they will still be favourites going into the return, but they still have a job to do.
The meeting also featured an Ekstraliga debut for Connor Bailey, stepping up due to Wroclaw's injury issues, and although he failed to score from two rides it will have been a real experience.
Lambert was also in good form for Torun in the third place play-off as he won his first three rides and finished with 12 points, whilst Emil Sayfutdinov scored a maximum in a 50-40 home win over Czestochowa which leaves the tie nicely poised ahead of the return.
In Division One, league leaders Zielona Gora coasted into the play-off Final with a 55-35 win over Ostrow, for a 102-77 aggregate victory.
Przemyslaw Pawlicki (13) and Luke Becker (10+2) led the way for the hosts, whilst the visitors' hopes were virtually dashed when Tobiasz Musielak suffered a broken leg in a crash in his second race.
Zielona Gora will face Rybnik in the Final for a place in next season's Ekstraliga, after they held Bydgoszcz to a 46-44 home win, as Rybnik came through by six points on aggregate.
That was largely thanks to the displays of Brady Kurtz with 16 from seven rides and Jan Kvech with 13+2, whilst for Bydgoszcz it was the end of their promotion hopes along with news that hotshot Wiktor Przyjemski, who missed the semi-final due to injury, will be leaving the club with his future seemingly in the top flight.
In Division Two, Gniezno confirmed their place in the Final with a 51-39 win over Opole to go through by 14 points on aggregate. Adam Ellis rounded off his Polish season with five points from four rides for the defeated side.
Also through are Rzeszow, who defeated Tarnow 56-34 for a dominant 107-72 aggregate win over their local rivals with Marcin Nowak, Rafal Karczmarz and Jacob Thorssell all scoring paid maximums.
Meanwhile Chris Harris was denied gold in the FIM Long Track World Championship as he was edged out by rival Martin Smolinski in Round 6 in Muhldorf.
Harris missed out on a place in the Final having finished third in the Last Chance, and with Smolinski finishing runner-up on the day to Kenneth Hansen he took the title by seven points after a season-long battle.
Second place was still Harris's best result in the series, whilst Hansen's win knocked Zach Wajtknecht off the overall podium as the Dane took the bronze medal on countback.