EUROPEAN REVIEW - Woffinden Injured
Great Britain captain Tai Woffinden has suffered the major setback of a broken shoulder in the early weeks of the 2021 campaign.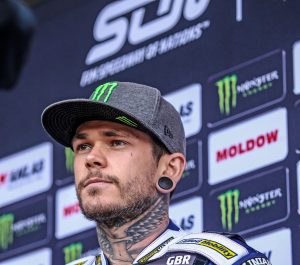 Image courtesy of Taylor Lanning Photography
Woffinden is now set for a period on the sidelines after picking up the injury when he tangled with Przemyslaw Pawlicki in Heat 3 of Wroclaw's Ekstraliga fixture at Grudziadz on Friday.
The two riders were in close proximity on the start-line, and although Woffinden made the better getaway, Pawlicki's foot appeared to lodge in the rear of his machine going into the first turn.
Both riders fell but whilst Pawlicki was able to continue in the meeting, the sudden stop sent Woffinden over the high-side and out of racing for the immediate future.
The news is a big blow to Wroclaw's title hopes as they must now battle to remain in play-off contention without one of their three big guns; whilst the only saving grace for Woffinden himself is that the Grand Prix series looks unlikely to begin before mid-July with the re-arranged events in Prague.
With Woffinden ruled out, Wroclaw went down to a 44-45 defeat at Grudziadz in a meeting which they would otherwise surely have won.
The dropped point came in an extraordinary re-run of Heat 3 when Maciej Janowski passed home duo Nicki Pedersen and Pawlicki, with the team-mates then colliding on the last lap with the Pole excluded for bringing down the Dane.
Wroclaw managed to open a five-point advantage after Heat 6 but conceded 5-1s in Heats 7 and 10 – both races which would have included Woffinden - and their defeat was effectively confirmed when Pawlicki defeated Gleb Chugunov and Dan Bewley in Heat 14.
Bewley collected 4+1 from five rides, defeating Norbert Krakowiak in Heat 1, and that shared penultimate race saw him get the better of Kenneth Bjerre.
Operating rider-replacement for Woffinden, Wroclaw then made a nightmare start at Lublin on Sunday and were 8-22 down after five races before matching the hosts over the remainder of the meeting.
Bewley was again fully competitive against a strong home side, scoring 5+2 from four rides as the visitors juggled their resources with Chugunov in good form and Artem Laguta recovering from a poor start.
Mikkel Michelsen top-scored for the hosts with 12+2, as they made it two home wins in the space of just over 48 hours having overcome Czestochowa 49-41 on Friday.
The meeting was won at reserve with Wiktor Lampart piling up 11 from five rides, whilst the inclusion of Dominik Kubera after the completion of his transfer also made a major difference with scores of 10+2 from five rides on both occasions.
Meanwhile Robert Lambert scored an action-packed 8+1 from five outings as Torun, inspired by Jack Holder, took Leszno all the way to a last-heat decider before going down 47-43 to the reigning champions.
Lambert pulled off a stunning move to snatch victory from Piotr Pawlicki on the last bend of Heat 6, and although he was eased out by the prolific Emil Sayfutdinov/Janusz Kolodziej combination in Heat 9, he then picked up a vital third place by passing Jason Doyle in Heat 11.
Six points down, Torun needed an advantage from Heat 14 and Lambert secured it by overtaking Jaimon Lidsey for the win – but their hopes of a draw were dashed in the last race with Pawel Przedpelski missing out to Sayfutdinov and Kolodziej behind the impressive Holder.
Gorzow continue to hold a 100 per cent record after a 52-38 result at Grudziadz on Sunday gave them their third victory in a row.
World Champion Bartosz Zmarzlik was again in ominous form with a 13+2 paid maximum including some devastating moves from the back, although the match itself was closer than the final score suggests, with Gorzow striking 5-1s in each of the last three races to pull clear.
Lublin and Leszno both have four points, whilst Czestochowa joined the other four teams on two by getting off the mark against Zielona Gora on Saturday.
Fredrik Lindgren blasted back to form by winning his first four races, although he lost his maximum to Max Fricke in Heat 15 behind team-mate Bartosz Smektala.
That 4-2 was added to a 5-1 from Leon Madsen and Jonas Jeppsen in the penultimate race to give the home side a 49-41 win.
In Division One, Krosno pulled off a remarkable comeback from 12 points down to win 46-44 in Ostrow thanks to a last-heat 5-1 from Andzejs Lebedevs and Tobiasz Musielak.
There was also a tight finish at Lodz, who overcame Rybnik 45-43 in a thrilling Heat 15 as home star Brady Kurtz edged out Rune Holta and Michael Jepsen Jensen.
Leaders Gdansk were 50-40 winners over Bydgoszcz with Wiktor Kulakov dropping only one point from five rides, whilst Gniezno opened their campaign with a 48-42 win at Tarnow on Monday.