EUROPEAN REVIEW - PGE Ekstraliga
Great Britain star Dan Bewley has achieved another major career milestone: his first maximum in the PGE Ekstraliga.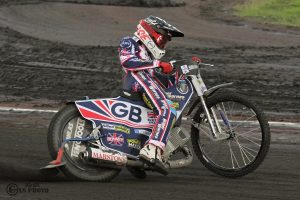 One week on from qualifying for the Speedway Euro Championship, Bewley continued his stunning early-season run by going through the card in Wroclaw's astonishing 63-27 demolition of Zielona Gora – away from home.
The result takes Sparta to the top of the table and clearly in contention for the league title with Tai Woffinden back to fitness and Bewley and Gleb Chugunov supporting their Grand Prix trio to form an ultra-powerful top five.
But Bewley's role on Sunday was about far more than just support as he tore into a home line-up featuring his SEC rival from last weekend Patryk Dudek, GP regular Max Fricke, and the experience of Matej Zagar and Piotr Protasiewicz.
Dudek had scored 15 and 16 in his last two home matches, but even he had no answer to the Wroclaw steamroller which saw them charge into a 28-8 lead after just six races.
Bewley got off to a flyer by working his way to the front in Heat 1, passing first Zagar and then getting the better of Mateusz Tonder off the final bend, whilst his next appearance saw him fend off Protaseiwicz for a 5-1 alongside Woffinden.
Dudek split the Bewley/Woffinden combination in Heat 8 but it was Bewley out in front for his third unbeaten ride, whilst in Heat 13 Bewley took the lead role once more as Maciej Janowski battled through the traffic to clear first Dudek and then Protasiewicz.
There was no sitting on an unbeaten score from four rides for Bewley, who took the outside gate in Heat 15 and launched from the start to complete his paid maximum, with Janowski again coming from the back for a final 5-1.
Bewley's total was 14+1, with Woffinden adding 11+2 from five rides, whilst the home side managed just three race wins, and are now seemingly facing a relegation battle.
Wroclaw will hold top spot overnight as the Lublin/Leszno clash was postponed due to rain and will now take place on Monday.
Friday's action had seen Gorzow move to the summit with a 50-40 win over Torun, who put in plenty of effort but fell short of an upset result.
The home side had four double-figure scorers in an exciting meeting, whilst Jack Holder scored 12 for Torun against the club he guested for last season.
Robert Lambert added 6+1 from five rides, his highlight being a Heat 5 race victory when he got the better of Martin Vaculik for a 4-2 with Chris Holder.
Elsewhere Czestochowa continued their fine form with a 54-36 win over Grudziadz to leave them level on points with fourth-placed Leszno, albeit having raced one more meeting.
In Division One, Krosno moved five points clear at the top by holding on for a 46-44 win at bottom club Tarnow as Tobiasz Musielak won a shared Heat 15. Rybnik lost ground with a 49-41 defeat at Gniezno, whilst Bydgoszcz overcame Lodz 48-42.
Meanwhile in Division Two, Adam Ellis collected six points for Rzeszow but couldn't prevent a 56-34 defeat at Poznan. Early pace-setters Rawicz and Opole both won at home – the former 48-41 over Landshut, and the latter 51-38 over Daugavpils.