European Review
Great Britain's truncated International season ended with a sixth-place finish in Saturday's weather affected Speedway of Nations Final at Lublin.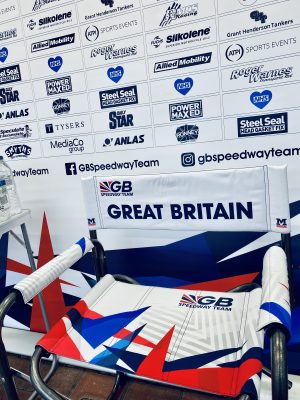 A year which featured the major high of Robert Lambert becoming Speedway Euro Champion in the summer, and also saw several of the country's youngsters pick up vital experience in continental meetings, ended on a low-key note as the weather wrecked the last major event in Poland.
For the second season running, GB were resigned to entering the Final without three-times World Champion Tai Woffinden, meaning Lambert led a far more youthful squad alongside Dan Bewley and Drew Kemp – Bewley named in the U21 position enabling him to take the full number of rides.
As it turned out, that was just four, because a weekend which should have featured a total of 44 races only actually featured 14 before Russia were crowned champions for the third successive campaign.
Friday's first round was cancelled due to constant rain up to start-time, and Saturday's event was also in doubt until being given the go-ahead after a brief practice session shortly before tapes-up.
Even so, conditions were far from ideal on a damp, misty night with rain a constant threat and the track proving a real challenge.
GB opened against Poland in Heat 1 but suffered a major blow as Lambert touched the tapes to earn an exclusion, although there was nearly a sensation in the re-run.
Bewley rode a stormer to move inside Szymon Wozniak and then go around World Champion Bartosz Zmarzlik off turn four, before the Pole hit back going into lap three to re-take the advantage.
Heat 5 saw GB take on Russia but this time they were outgunned from the gate as Emil Sayfutdinov and Artem Laguta raced clear.
There was much better news in Heat 9 with a clear 7-2 for GB over the Czech Republic, Bewley making a flying start and then tucking in behind Lambert to finish well clear of Vaclav Milik and Petr Chlupac.
But the night took a major turn for the worse in Heat 12 which took four attempts to run, and ended up taking place without a GB rider.
The clash with Sweden saw Bewley slide off at the start of lap two, fortunately without injury, and then after another re-start when Fredrik Lindgren was moving too early, Lambert again edged into the tapes from gate three and was excluded, handing their opponents an unchallenged 7-0.
That turned out to be GB's last appearance because in Heat 15 Lindgren lifted and fell coming out of the last bend, with the battling Wozniak and Oliver Berntzon behind him thankfully both avoiding ploughing into the World No.3.
Berntzon laid his machine down as Lindgren was thrown clear, whilst Berntzon was hit by the bike of Lindgren and also fell heavily, with all three remarkably emerging unscathed.
It was enough to persuade meeting organisers that enough was enough, with the results calculated back at Heat 14 when each nation had raced four times.
That was enough to see Russia ahead of Poland on countback after both scored 23 points, the key moment coming in Heat 8 when the two met and Laguta went around Wozniak for third place to secure 5-4 for Russia.
And few would deny that Sayfutdinov's ride to scrape the fence and make it past Australian duo Max Fricke and Jason Doyle in Heat 13 wasn't worthy of seeing his nation top the podium again.
But whilst all nations deserve credit for getting on with the racing, it was sadly not an event to live long in the memory, especially given that the competition and its World Cup forerunner have delivered much memorable action in previous years, with the 2020 version having unavoidably been moved to the back-end of the season due to the pandemic.
Bewley, Kemp and squad member Jordan Palin have two more meetings to look forward to back in the UK this week, starting with the British Under-21 Final at Berwick on Wednesday.
And the three riders are also named in the line-up for the Peter Craven Memorial Trophy at Belle Vue on Thursday, a meeting which will conclude the decimated British season.