EUROPEAN REVIEW
Great Britain's Robert Lambert opened his Grand Prix campaign with a semi-final appearance in the first round of the series in Croatia.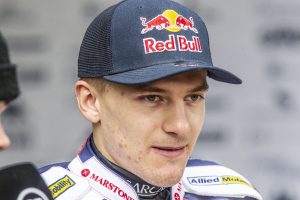 Image courtesy of Taylor Lanning Photography
Lambert had the honour of becoming the first race winner of the new era of SGP racing, as he took the flag in Heat 1 from gate two ahead of Jason Doyle, Patryk Dudek and Jack Holder.
And the GB man then added a second win out of two in Heat 6 to top the early standings, this time coming out on top in a tight tussle with Fredrik Lindgren.
From there it was a tougher night, but a total of seven points proved enough to reach the semis, where his night ended at the hands of Anders Thomsen and Maciej Janowski who progressed.
There was a highly creditable GP debut for Dan Bewley, who scored six points and was very much on the pace – so much so that he took second place in Heat 5 with a super defensive ride to hold back the thrusting Bartosz Zmarzlik.
Bewley also finished ahead of Mikkel Michelsen in that race, with Zmarzlik and Michelsen subsequently finishing first and third overall – and there was so nearly a race win for Bewley too, only for Thomsen to snatch it on the line in Heat 14.
But it wasn't a good day for Tai Woffinden, as after major logistical issues to even reach Gorican, he scored just five points – with a race win in Heat 7 giving him hope, but only two points being added thereafter.
Zmarzlik therefore heads the early standings ahead of Janowski, with Michelsen third and Thomsen the other finalist on the day.
Woffinden's tough weekend didn't improve the following day in the PGE Ekstraliga as Wroclaw crashed to a 52-38 defeat at Czestochowa on Sunday.
The result leaves the defending champions down in sixth position in the table with just two points – and 2+1 from four rides was the totally uncharacteristic score from Woffinden on the day, with Bewley faring much better as he picked up 12 from seven rides as the only significant support for Janowski on 14+2. The likes of Leon Madsen (paid 14), Kacper Woryna (10) and Fredrik Lindgren (12) dominated the meeting for the hosts.
Torun are also on just two points after losing 48-42 at home to leaders Lublin, who made it four wins on the bounce in Sunday's later fixture.
Lambert scored 10+3 from six rides for the hosts, but he and Jack Holder couldn't prevent a 4-2 to the visitors in Heat 15 which clinched the victory, as Michelsen and Jarek Hampel kept the leaders ahead at the top from a meeting they had led virtually throughout.
Leszno are just a point behind Lublin after a comfortable 56-34 win over Ostrow, whilst Gorzow are up to third having won 51-39 at Grudziadz with Zmarzlik, Thomsen and Martin Vaculik all in double figures.
In Division One, Krosno hammered Lodz 61-29 and are top of the table with a 100 per cent record after then winning 50-40 in their re-arranged fixture at Rybnik on Monday.
They are one point ahead of Zielona Gora, who had a much closer battle with Gdansk before coming through for a 47-43 victory thanks to a 15-point maximum from Max Fricke.
In Division Two, Adam Ellis contributed eight points for Daugavpils, including two race wins, as they defeated Rzeszow 47-42 – which keeps them just one point behind leaders Poznan, who beat Opole 52-38. Tarnow are in third place after beating Pila 51-39.
Meanwhile, Sweden's Bahaus Elite League gets underway this week with eight clubs competing following the late withdrawal of former giants Vetlanta.
Three GB riders are named in squads, with Lambert and Bewley due to race together for 2021 defeated finalists Smederna, who open their campaign at home to Rospiggarna on Thursday.
Ellis has signed for reigning champions Dackarna, in a squad which includes the likes of Janowski, Brady Kurtz and Jacob Thorssell. He is not included in the line-up for their opener at Piraterna on Tuesday.
Elsewhere at the weekend, Jordan Palin scored five points as he gained good experience from his SEC qualifier in Stralsund.
The meeting was dominated by series regulars with Bartosz Smektala, Kai Huckenbeck and Timo Lahti the top three on the day, with the other two SEC Challenge spots taken by Rasmus Jensen and Frederik Jakobsen.
The next qualifier takes place at Hungarian venue Debrecen on Saturday, with Ellis amongst the starters for a meeting which also includes former champion Andzejs Lebedevs and the in-form Woryna.