EUROPEAN REVIEW
Wroclaw lead the early standings in the PGE Ekstraliga after a hugely impressive 52-38 win in Torun on Sunday.
Dan Bewley and Tai Woffinden got the better of Robert Lambert in the battle of the GB riders with the visitors making it two wins from two at the start of the new season.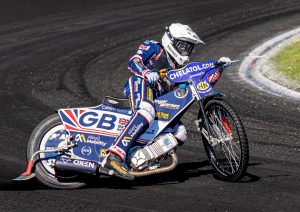 Image courtesy of Steve Hone Photography
Woffinden struck the first blow with a fast start in Heat 1 for a 5-1 with Artem Laguta over Lambert, and although Bewley and Woffinden were headed by Emil Sayfutdinov in Heat 6, Wroclaw still held a six-point lead.
The teams then traded 5-1s with Lambert teaming up with Pawel Przedpelski in Heat 7, but when the three Brits clashed in Heat 9 it was Bewley who came out on top with a super ride to make it around the outside of Lambert, with Woffinden third for a 4-2.
Again a Torun 5-1 was immediately replied with one from Wroclaw as Piotr Pawlicki and Woffinden raced to a maximum over Lambert in Heat 11, and Bewley took his second win of the meeting in the next race.
Wroclaw wrapped up victory with a 4-2 in Heat 13 with the final score 52-38 in their favour, and Laguta scored a 14+1 paid maximum. He was joined in double figures by Bewley (11+2) and Pawlicki (10+1) with Woffinden on 8+3, and the visitors could even afford an off-day for Maciej Janowski who scored just 2.
Lambert picked up 8+1 for Torun as the best support for Sayfutdinov who scored 10+1.
Elsewhere there was drama in Czestochowa as the home side led Gorzow 41-31 with three races remaining, yet were still held to a 45-45 draw.
Anders Thomsen inspired the visitors' comeback with a 5-1 alongside Martin Vaculik over Mikkel Michelsen in Heat 13, and after a 4-2 in the next race set up a last-heat decider, Thomsen and Vaculik did it again in Heat 15, this time at the expense of Michelsen and Leon Madsen to secure an unlikely share of the spoils.
That completed a strong week's work for Gorzow as they were winners in their delayed Round 2 fixture against Grudziadz, coming away with a 51-39 victory.
Thomsen and Szymon Wozniak both scored 13+1 for the home side whilst Nicki Pedersen scored 13 for Grudziadz, who have never won an away match at Gorzow.
And Grudziadz then suffered a home defeat to Leszno in their Round 3 fixture, going down 40-50 as the visitors ended the meeting with a 4-2 and a 5-1 to confirm a 50-40 victory.
However, that result came at a cost for Leszno, as Chris Holder was taken out by Kacper Pludra – racing against his former club – in Heat 14 and although he walked off the track, he now faces two months out with a fractured C5 vertebra in his neck.
Pludra received a yellow card for the move which saw Holder slam into the boards at the start of the home straight, but Jaimon Lidsey came in to win the re-run.
Janusz Kolodziej scored a brilliant 15-point maximum for Leszno, completing it with a terrific swoop between Pedersen and Gleb Chugunov in Heat 15, whilst Grzegorz Zengota added 11+2. Pedersen was again top scorer for Grudziadz on 11.
In Division One, the rearranged Round 1 fixture saw Zielona Gora make a flying start to their campaign with a 52-38 win at Rybnik, with Przemyslaw Pawlicki, Rohan Tungate and Krzysztof Buczkowski all in double figures.
That meeting was marred by a big crash in which Viktor Trofimov collected Krystian Pieszczek on the back straight, with Buczkowski also caught up, and Trofimov's bike flew high over the fence. Trofimov received a yellow card, although he was out of the meeting in any case with a broken hand.
The absence of Trofimov was no problem for Zielona Gora when they travelled to Gdansk on Sunday and came away with a 53-37 victory, with Pawlicki scoring a 14+1 paid maximum and Buczkowski adding 13.
Elsewhere over the weekend, Bydgoszcz defeated Rybnik 53-37 with David Bellego scoring 13 points, whilst the visitors' top scorer Matej Zagar picked up a yellow card for his reaction to the Bydgoszcz fans after Heat 1!
Lodz, now managed by Marek Cieslak, collected a 47-43 away win in Poznan despite a 15-point haul from home No.8 Jonas Seifert-Salk, whilst Ostrow took a comfortable 52-38 win from a rain-affected meeting in Ostrow, with Francis Gusts impressing on 13 points, and Grzegorz Walasek racking up 11+4.
In Division Two, Rzeszow won their rearranged local derby 53-37 in Tarnow, but were then edged out 46-44 at Rawicz on Saturday as the home side came back from six points down after Heat 10.
Scott Nicholls scored 2+1 for Rawicz in that meeting but there were double figure scores for GB riders elsewhere with Steve Worrall collecting 12+1 from six rides to top-score for Daugavpils in their 47-43 win over Gniezno, whose manager Adam Skornicki left the club prior to the meeting.
And Adam Ellis also scored 11+1 racing for Opole in their 51-39 win at Pila, for whom Dan Gilkes collected 4+1.
Tuesday's big winners in the Under-24 Ekstraliga were Gorzow with a 62-28 home triumph over Czestochowa, for whom Sam Hagon scored two points from four rides.
Elswehere Leon Flint scored 5+2 for Grudziadz in a narrow 47-43 defeat at Ostrow, whilst Connor Bailey scored four as Wroclaw suffered a 35-55 home defeat to Lublin, and Torun were 47-43 winners at home to Leszno.
Tuesday's SEC qualifier in Terenzano brought strong performances from both GB riders, with Tom Brennan just one point off the qualification mark.
Brennan scored nine and was left to rue a disqualification from his third ride after a first-bend incident, whilst Richie Worrall was just behind on eight.
Grzegorz Zengota scored a 15-point maximum with Jan Kvech on 14, and the other two qualifiers were Martin Smolinski on 11 and Mads Hansen, who recovered from a last place in his first ride to score 10.
There is more British interest in the next qualifier in Daugavpils on Saturday, which features Steve Worrall and Adam Ellis, Worrall on his current home track and Ellis returning to his base of last year.
The two GB riders clash in Heat 1 of a strong meeting which includes former SEC regulars Oliver Berntzon, Kacper Woryna and Antonio Lindback, along with Frederik Jakobsen, Norick Blodorn and Andreas Lyager.