EUROPEAN REVIEW
Wroclaw maintained their 100 per cent record in Round 5 of the PGE Ekstraliga – but once again they were made to fight hard for victory. Dan Bewley top-scored with 12 points from five rides in a 49-41 win over Gorzow, who kept themselves very much in the meeting after taking an early lead, and then made full use of their tactical options.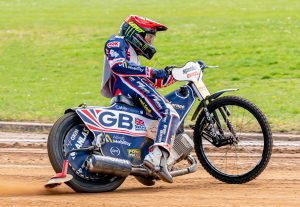 Image courtesy of Steve Hone Photography
Bewley won three of his first four races, including a vital Heat 13 victory over Anders Thomsen and Martin Vaculik with team-mate Maciej Janowski at the back.
Artem Laguta finally sealed the win for the title favourites by winning Heat 14, and both he and Janowski ended up in double figures, but Tai Woffinden scored just 3+1 including an exclusion in his final ride.
Robert Lambert was part of a solid winning display for Torun, who overcame Grudziadz 52-38 in a meeting where the main talking point was another early withdrawal from Nicki Pedersen, who took two rides before pulling out on a grippy track.
Lambert scored 9+2 from his first four rides before a retirement when he was in second place in Heat 15, and the margin between the sides would have been far greater but for a 14-point haul from a back to form Max Fricke.
Champions Lublin are up to second in the table after an emphatic 65-25 home win over Leszno, featuring maximums for Bartosz Zmarzlik (14+1) and Dominik Kubera (13+2) with Jack Holder and Fredrik Lindgren both scoring paid 14.
And there was relief for Czestochowa with their first win of the season, a 56-34 win over Krosno moving them into the top four with their Danish GP duo Leon Madsen (13+1) and Mikkel Michelsen (12+1) in the major points.
The signs already look ominous for Grudziadz, with just one point from five meetings and with their perceived main rivals for avoiding the wooden spoon, Krosno, already on four points.
In Division One, leaders Zielona Gora found themselves four points down in Landshut after nine races, but hit back to seal a 46-44 victory for their third away win of the season.
Rohan Tungate made the key contribution with 12+1 from five rides although Dimitri Berge was the top star on the day with 16 from six for the home side.
Landshut had collected an impressive 52-38 win over Bydgoszcz two days earlier with GP rider Kim Nilsson impressing on 12+1, giving the German side their first victory of 2023.
Ostrow are second in the table but they dropped to a controversial 21-26 home defeat to Lodz in a meeting curtailed due to the weather with the result standing – and many felt it should not have started in the first place. Tom Brennan scored five points, including a race win, for the visitors.
Meanwhile promoted Poznan produced a dramatic finish to edge out Rybnik 46-44 despite being six points down going into the final two races.
Jonas Siefert-Salk and Aleksandr Loktaev were the heroes for the home side as they appeared as double tactical substitutes in Heat 14 to secure a 5-1, and then repeated the feat in a last-heat decider over the previously unbeaten Patrick Hansen.
An extraordinary Sunday in Division Two saw all three matches end in 45-45 draws, leaving Opole one point ahead of Rzeszow at the top of the table.
Opole's draw came in Daugavpils, with Adam Ellis claiming 9+1 from five rides for the visitors whilst Steve Worrall scored two from four for the hosts.
Drew Kemp impressed with nine from five for Rawicz in their 45-45 draw with Tarnow, whilst Dan Gilkes scored 5+1 as Pila collected their first point of the season by sharing the spoils at home to Gniezno.
There were good scores from Great Britain riders in Tuesday's Under-24 Ekstraliga programme as two of the top three teams both lost on their travels.
Leon Flint scored 9+2 from five rides for Ostrow in their 56-34 win over Lublin, who lost for the first time this season, whilst Jason Edwards was also in the major points for Grudzaidz with 8+4 in their 48-42 in over previous leaders Leszno.
Krosno took over at the top with a 53-36 win at bottom club Wroclaw, for whom Connor Bailey scored 3+1, whilst the night's other fixture ended all square as Torun and Czestochowa drew 45-45.
Woffinden returned to form in Sweden on Tuesday with a 14-point haul from five rides as Vastervik made it two wins from two at the start of the season, racing to a 48-42 away success at Smederna.
Woffinden was beaten in Heat 1 by Lambert but was unbeaten thereafter, and Fredrik Lindgren scored a 14+1 maximum for the visitors as he continues to deputise for the injured Chris Holder.
Lambert finished with 9+2 as he lost out to Woffinden in their next two races, including a Heat 15 5-1 from Woffinden and Lindgren to secure the match.
Elsewhere, Jason Doyle scored a 15-point maximum for Indianerna as they won 51-39 at Dackarna, with Bewley scoring 5+1 from five rides for the hosts, whilst Lejonen racked up a 60-30 win over Rospiggarna with Zmarzlik unbeaten from five outings on 14+1.