EUROPEAN REVIEW
Great Britain's Robert Lambert was the hero for Torun in a dramatic 46-44 victory over champions Lublin which proved to be the match of the season so far in the PGE Ekstraliga.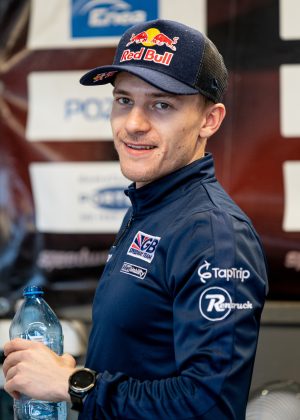 Image courtesy of Steve Hone Photography
Lambert and Emil Sayfutdinov secured a 5-1 in the last race over World Champion Bartosz Zmarzlik and Fredrik Lindgren, with the meeting seemingly heading for a draw until Lambert made a final move around the outside and just beat the Polish star to the finish line.
Lublin had gone ahead with a 5-1 of their own in Heat 14 from Jack Holder and Jarek Hampel which appeared to have completed a comeback from eight points down.
There was also a spectacular incident in Heat 11 when Lindgren tangled with Wiktor Lampert, with the Swede excluded after a heavy crash.
Lambert scored 10+2 from five rides, being unbeaten with the exception of a last place in his fourth ride, with Sayfutdinov again in top form with 13. Zmarzlik top scored for Lublin with 12+1.
There was an away win as expected for leaders Wroclaw at Grudziadz, although the home side battled hard from 12 points down and managed to reduce the arrears to 42-48 by the end of the meeting.
Tai Woffinden won his first two rides for the visitors to finish on nine from five, whilst Dan Bewley added 6+1 with Artem Laguta top scoring on 12. Max Fricke led the way for the hosts with 15 from six, and Nicki Pedersen also took six rides to score 11.
Elsewhere, Czestochowa were 49-41 winners in Leszno despite a stellar 18-point maximum from Janusz Kolodziej for the home side, whilst Danish duo Leon Madsen and Mikkel Michelsen scored 12+1 and 11+1 respectively for the visitors.
There was controversy in Krosno where the home meeting with Gorzow was delayed by an hour and then ultimately abandoned after nine races due to track conditions with the visitors 28-26 ahead.
That result stands, despite a 9-point maximum for Jason Doyle, and the Krosno circuit licence is now reportedly suspended after several problems this season – although remarkably the final race of the meeting saw Andzejs Lebedevs break the track record!
The league table after six rounds now shows Wroclaw with a four point lead over Lublin, whilst Grudziadz are three points adrift of Krosno at the bottom.
In Division One, Landshut picked up their first win of the season with a 46-44 victory at Gdansk courtesy of a 5-1 in the last race from Kim Nilsson and Kai Huckenbeck.
Rybnik recovered a six-point deficit to defeat Lodz 48-42 for their second win of the campaign with Brady Kurtz notching 12 points for the home side, and Niels-Kristian Iversen matched that total for the visitors. Tom Brennan was an unused No.8 for Lodz.
Bydgoszcz held off Poznan to win 48-42 at home with youngster Wiktor Przjemski scoring a 13+2 paid maximum from five rides, whilst Aleksandr Loktaev notched 14 for the visitors.
Zielona Gora's meeting against Ostrow was postponed but they still hold a four point lead at the top, with Ostrow and Bydgoszcz having raced the same number of meetings, whilst the bottom four sides are all on four points.
In Division Two, Drew Kemp top scored for Rawicz with 9+1 from six rides, although they were beaten 51-39 by Pila who enjoyed their first win of the season.
Elsewhere Adam Ellis was also in the big points with 12+1 for Opole in their 56-34 win over Gniezno, whilst Daugavpils gained an away win at Tarnow by a scoreline of 47-43 with Nick Morris leading the way on 13+1.
SGP2 qualifiers took place on Saturday with Anders Rowe the best placed British rider as he scored a highly creditable 11 points in a strong field at Vojens.
Rowe was one of five riders who tied for third place on the same total behind Esben Hjerrild and Phillip Hellstrom-Bangs, but although he made it through the first of the deciding run-off series, he finished last in his next ride and was therefore eliminated before Francis Gusts made it through ahead of Damian Ratajczak.
Elsewhere, Drew Kemp and Dan Gilkes scored nine and eight points respectively at Pardubice, both being very much in the mix but missing out in a meeting won by Keynan Rew.
And Leon Flint picked up seven to finish midway through the rankings at Krsko, with Danish talent Emil Breum scoring a 15-point maximum. Three wild card places for the SGP2 series remain to be determined.
In Tuesday's PGE Ekstraliga U24 action, Jason Edwards scored a solid eight points from five rides as Grudziadz defeated Czestochowa 49-40 to climb to third in the table.
Leaders Krosno are four points clear at top having recorded their fifth straight victory, a 46-43 win at champions Ostrow for whom Flint failed to score from two rides.
Elsewhere, Leszno are second after a comfortable 54-36 win at home to Lublin, whilst Gorzow were 47-43 winners at Torun.
In Sweden, there was a dramatic finish as Smederna defeated Piraterna 46-44 with a last-heat 5-1 – and just as with Torun at the weekend, Lambert was in the heart of the action.
The visitors had clawed back from eight points down to lead 43-41 with one race remaining, but maximum points from Lambert and Jaimon Lidsey over Przemyslaw Pawlicki and Vaclav Milik turned the match back in Smederna's favour, with Lambert scoring 9+1 from five rides.
Elsewhere, the battle of the GB riders at Malilla went Bewley's way as he scored 12+2 from five rides in Dackarna's 52-38 win over Vastervik, for whom Woffinden scored ten from six. The fixture between Lejonen and Indianerna was postponed after a lengthy delay.