European Review
Tai Woffinden's hopes of an Ekstaliga play-off campaign with Wroclaw have received a major boost after a big away win on Sunday.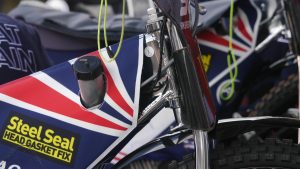 Image courtesy of Darren Bott
Results on the road had been a major problem in 2020, but Wroclaw visited second-placed Zielona Gora and secured a 49-41 victory to move up into the top four. Woffinden collected 10+2 from five rides, including a vital 5-1 with Gleb Chugunov in Heat 10 which virtually put the match beyond the hosts. He also started and ended the meeting with wins, getting the better of GP rival Patryk Dudek in Heat 3, although Dudek did take a measure of revenge with a 5-1 alongside Martin Vaculik in Heat 7 before Wroclaw pulled clear again.
The result moves them above Czestochowa, who could be facing major issues after the postponement of their home fixture with Gorzow on Friday due to track conditions. The PGE are to rule on that matter this week, and Czestochowa have already lost the services of experienced boss Marek Cieslak, who resigned on the day of the meeting.
Gorzow have the chance to close in further after a recent strong run of form, as they host Grudziadz on Monday in a Round 14 match brought forward due to their staging of GP rounds next month.
Lublin are third in the table, and their play-off place looks increasingly secure after a 52-38 win at bottom club Rybnik on Sunday.
European Champion Robert Lambert found himself on the wrong end of an early 5-1 against his SEC rivals Mikkel Michelsen and Grigory Laguta, but he did recover to win Heat 8 against Jarek Hampel and Matej Zagar on his way to top-scoring for the hosts with 9+1.
Meanwhile leaders Leszno are close to officially confirming their play-off place as they recorded their biggest win of the season by defeating Grudziadz 60-30, providing all but two of the heat wins.
In Division Two, Adam Ellis had a mixed night for Rzeszow with six points from four rides in their 43-46 home defeat to Poznan. Ellis was involved in a 5-1 in Heat 13 and a 4-2 in Heat 14 which set up a last-heat decider, but the visitors collected a 4-2 of their own to secure victory.
Anders Rowe experienced a tough day at Opole, scoring one point from three rides in a 48-42 defeat for Rawicz, who had come from ten points down to level the scores after Heat 11 but then faded in the closing stages.
Unfortunately, Ellis now faces a spell on the sidelines after a heavy crash in the Grand Prix Challenge at Gorican on Saturday. After starting the meeting with two last places, the GB rider improved as the event went on, and he was edged out by eventual winner Matej Zagar in Heat 11 after out-gating the Slovenian. Ellis added a further second place in Heat 16 when he held the early lead only for Michelsen to move inside him, but disaster struck in Heat 18 when he appeared set for a race victory.
Ukranian racer Aleksandr Loktaev had already crashed out in the first running, and the re-run saw Ellis lead the unbeaten Krzysztof Kasprzak only for the Pole to lose control inside him and bring both down, with Ellis striking the turn four barrier just after the air-fence. With Kasprzak excluded, Ellis was unable to take the re-run and was taken to hospital where it was confirmed he had fractured three vertebrae.
The Great Britain Speedway Team wish him all the very best and will of course be giving him their full support during his recovery period.
Despite the crash, Kasprzak still joined Zagar in reaching the 2021 Grand Prix, with Swedish rider Oliver Berntzon completing the trio of qualifiers.