European Review
Great Britain's youngsters secured a thoroughly merited Bronze medal from Saturday's FIM World Under-21 Team Championship Final in Denmark.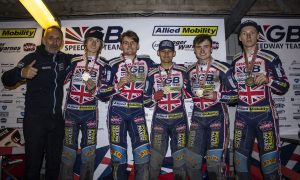 Image courtesy of Taylor Lanning Photography
As Poland edged out the hosts to pull off a remarkable seventh successive victory in the competition, GB accumulated a highly creditable 32 points for third place overall, despite going into the Outrup event as underdogs.
Star of the show was Dan Bewley, who racked up 17 points courtesy of two wins and four second places, despite having suffered a lengthy injury absence earlier in the summer. Bewley won both Heats 12 and 15, the latter as a tactical joker for six points in which he took the scalp of Leszno's Dominik Kubera, who is also likely to be a strong contender for the individual U21 title next month.
That proved to be a well-timed move from Team Manager Neil Vatcher, with GB by that stage already dominant over Latvia who endured a nightmare meeting and only scored in three of the 20 races.
Elsewhere in the GB team, both Tom Brennan and Drew Kemp carded second places, with Brennan's defeat of Jakub Miskowiak in Heat 5 an impressive result, whilst Kemp beat highly-rated Danish youngster Marcus Birkemose in Heat 7.
With the inexperienced Jordan Palin and Leon Flint both also contributing to the total, GB ended the meeting ten points adrift of the hosts, whilst Poland produced a power-packed finish to score 14 points from a possible 15 in the last five heats, to end on 46 compared to the Danes' 42.
Meanwhile an extraordinary comeback by Gorzow saw them win 46-44 at Wroclaw in the Ekstraliga on Sunday as the play-off race took another dramatic twist. Wroclaw had thrown away a six-point lead to draw with Czestochowa in their previous home meeting, but this was even more remarkable as the hosts led 38-28 with four races to go.
Tai Woffinden scored five points from his first two rides but found himself on the receiving end of 5-1s in Heats 13 and 14, being squeezed out in a terrific scrap with Bartosz Zmarzlik and Anders Thomsen in the first, before being closed down by Szymon Wozniak in Heat 14 to allow Thomsen to make his move. At 42-42, Wroclaw still had the unbeaten Maciej Janowski in Heat 15 – but he was out-gated by Zmarzlik and Jack Holder, and although he moved into second place, Janowski's efforts to create a gap for team-mate Chris Holder were unsuccessful as Gorzow snatched a sensational win.
The result moves Gorzow on to 21 points in second place at the end of their regular programme, whilst elsewhere Zielona Gora consolidated third place by beating leaders Leszno 52-38 to move on to 20 with one match to go. Wroclaw now must win at Grudziadz in their re-arranged fixture on Wednesday, but that may not be enough as their rivals also have midweek matches.
Lublin also travel to Grudziadz on Tuesday, whilst the Czestochowa/Rybnik fixture on Wednesday has been switched to the bottom club's home track as the Lions' circuit licence has once again been suspended. They will still expect to win and move on to 19 points, but with their final match to take place at Leszno, there could yet be further drama before the top four is confirmed.
In Division Two there was an excellent showing from another GB youngster, with Anders Rowe scoring 9+2 from six rides in Rawicz's 59-31 defeat at Rzeszow.
Meanwhile Robert Lambert made a guest appearance for German club Wittstock, also in Division Two, and top-scored with 12 points but was unable to prevent a 36-54 home defeat to Opole.