European Review
Tai Woffinden will head to Torun in early October as one of three riders with a realistic chance of taking the World Championship.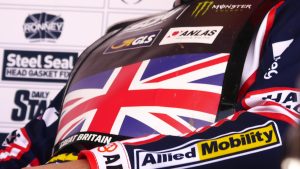 Image courtesy of Darren Bott
Woffinden secured back-to-back second places in last weekend's fifth and sixth rounds at Prague, and now sits third in the overall standings.

The biggest beneficiary from the Czech Republic double, however, was defending champion Bartosz Zmarzlik, who won both meetings and now leads Woffinden by ten points.
In between is the consistent Fredrik Lindgren, who has 92 and is seven behind Zmarzlik and three ahead of Woffinden. There is then a significant gap to Maciej Janowski, Leon Madsen and Jason Doyle on 71, 70 and 69 respectively.
Friday's meeting started in inauspicious fashion for Woffinden, who broke the tapes in Heat 1 and was excluded – the first of a spate of start-line warnings and exclusions throughout the meeting.
With Zmarzik, Doyle and Artem Laguta proving most consistent in the qualifiers, Woffinden raced to a string of second places, eight points seeing him edge out Max Fricke on countback to make the semi-finals.
Progression to Final became a straightforward affair after both Madsen and Doyle were excluded for transgressing at the start, although Woffinden and Zmarzlik still put on the best race of the night which the Pole took after a close battle.
Zmarzlik then dominated the Final to take the full 20 points, whilst Woffinden headed Martin Vaculik and Emil Saydutdinov to collect 18.
Saturday's meeting was more eventful, and this time Woffinden started with two race wins, before passing Matej Zagar for second place behind Lindgren in Heat 9.
Third place in Heat 13 featured another close contest with Zmarzlik, and Woffinden was then a clear winner of a re-started Heat 17 after Niels-Kristian Iversen as Woffinden moved past.
The semi-final saw Woffinden progress with Lindgren at the expense of Vaculik and Sayfutdinov, with the former Wolverhampton team-mates joined by Zmarzlik and Doyle in the Final.
This time it looked like Woffinden's race after two re-starts as he got round Zmarzlik on the opening lap – but the Pole kept on chasing, and a strong inside move going into the last bend was enough to secure back-to-back GP victories and extend his series lead, with Doyle completing the rostrum finishers.
Woffinden was then in Ekstraliga play-off action on Sunday, and an intensely tight semi-final against Gorzow with a maximum of two points separating the sides from Heat 4 onwards.
Each of Heats 11-14 were shared, and Zmarzlik was unbeaten going into the last race, but Woffinden came up with a big ride in a super race in which he and Janowski were split by Anders Thomsen - but Woffinden held on for the win whilst Zmarzlik ran a rare last place.
The meeting also provided encouragement for Dan Bewley, riding at No.8 for Wroclaw, with the Belle Vue youngster scoring four from three rides including a race victory in Heat 7 when he and Janowski combined over Wiktor Jasinski and Iversen.
The other semi-final also produced a close result but it is very much advantage Leszno as they won 46-44 at Zielona Gora, who narrowed their deficit with a last-race 5-1 but still face a mountain to climb in the away leg next week.
Elsewhere in Poland, Anders Rowe enjoyed another highly encouraging display with a score of 8+1 from six rides in Rawicz's 36-54 defeat at Wittstock – a meeting which also included Robert Lambert.

The Speedway Euro Champion won his four completed rides for the hosts, whilst Rowe's score was accumulated from his opening four outings and featured a race win in Heat 4.
Sunday also saw a successful staging of the British Under-19 Championship at Scunthorpe, with Drew Kemp emulating his 15-point maximum of last season to retain the title.
Kemp had to do it from the back in two of his five rides, snatching a win from Jason Edwards on the line in Heat 11 and then surging inside Jordan Palin in the deciding Heat 20 to make sure of the crown.
He finished one point ahead of Dan Gilkes, who impressed greatly on 14, dropping his only point to Kemp in Heat 4, whilst Palin recovered from a crash in his first ride to score 10 and then win a three-man run-off for third place ahead of Joe Thompson and Henry Atkins.