European Update
Tai Woffinden and Dan Bewley bid to take Wroclaw into an unlikely Ekstraliga Grand Final when they head to Gorzow on Monday.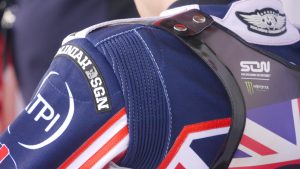 Image courtesy of Darren Bott
The second leg of the play-off semi-final was put back by 24 hours at an early stage due to a poor weather forecast for Sunday. And with only a 46-44 advantage heading into the meeting, Wroclaw know they face a massive challenge if they are to set up a potential repeat of the 2017 and 2019 Finals.
Gorzow last reached the big decider in 2018, but on all three occasions it was Leszno who ended up on top with an outstanding record in play-off matches. And the reigning champions are fully expected to make it through again, as they hold a 46-44 lead over Zielona Gora heading into their home leg – which has also been moved to Monday due to the weather.
Wroclaw can gain some positive inspiration from a 49-41 win at Gorzow in 2017, and matches between the two sides over recent years have generally been close. The exception, however, was when they met in the league stage in August, when Gorzow swept to a 55-35 victory with Bartosz Zmarlik scoring a six-ride paid maximum and Anders Thomsen adding 15+1.
Whatever happens, the Polish league season will not be over for Woffinden and Bewley as the defeated semi-finalists also race over two legs in the third place play-off as a prelude to the Final.
But Swedish league competition is over for Bewley after Rospiggarna lost out to Vastervik over two legs in the midweek quarter-finals. They looked on course after only going down 46-44 in the away leg, Bewley scoring 5+1 from five rides and sharing in a key Heat 13 5-1 which put them ahead at that stage.
But a huge turnaround back at Hallstavik saw Vastervik, who had finished second from bottom in the regular standings but tracked a much stronger line-up, run out 53-37 winners on the night for an 18-point aggregate win.
Bewley scored 5+1 from six rides, winning Heat 4 ahead of Artem Laguta, but his night ended with a crash in Heat 14 as Vastervik took the last five races by a massive 23-7 margin.
There was better news for Robert Lambert, whose Lejonen side are into the semi-finals after sweeping aside bottom club Piraterna both home and away. Lejonen were 59-31 winners at Motala with Lambert charging to a 15-point maximum – and they went one better at Gislaved in the second leg, winning 60-30 with Lambert again going through the card making it ten wins from ten rides across the tie.
Bewley returned to the UK to star in Belle Vue's behind closed doors challenge match, scoring 13+1 from five rides in a 49-41 win for the Aces against the ATPI All Stars. His only point dropped came in Heat 15 when he lost out to Rory Schlein, whilst youngster Jordan Palin also impressed in the live-stream event, with 6+3 despite a fall in Heat 8.
Aces captain Steve Worrall scored 9+1, whilst Lewis Kerr was unbeaten in his first three rides for the All Stars as he ended with 9+2.
Several riders from that event will be back in Manchester on Monday for the re-scheduled British Final, which moved from Ipswich on Saturday due to bad weather. Youngsters Drew Kemp, Tom Brennan and Joe Thompson get the chance to go up against former champions Danny King and Chris Harris, with Jason Crump also included in the meeting.
Palin and Jason Edwards, meanwhile, scored 11 points at Gustrow on Saturday although a top-three challenge in the European Under-19 Pairs proved beyond them. Consistent scoring from Jan Kvech and Petr Chlupac, and a win for reserve Daniel Klima, saw them take victory by two points from Latvia, who had the individual star of the meeting as Ricards Ansviesulis scored 16 points from six rides. Poland were third with Mateusz Cierniak scoring 14.