European Review
Great Britain's Dan Bewley goes into this weekend's Speedway of Nations with confidence sky-high after his best-ever Ekstraliga performances for Wroclaw.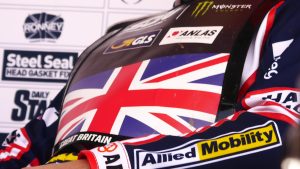 Image courtesy of Taylor Lanning Photography
Racing as No.8, Bewley was the star performer for Wroclaw as they defeated Zielona Gora on aggregate to win their third/fourth place play-off.
And Bewley's additional track time and heavily increased points-scoring comes at a great time for GB, as the injury to skipper Tai Woffinden means the Belle Vue youngster is set to play a substantially greater role in Lublin, where he is named as U21 reserve but can appear in any of GB's races.
The first leg of the play-off took place in difficult track conditions at Zielona Gora which caught out several more experienced riders – but Bewley, mounted on equipment borrowed from Woffinden, attacked the circuit with both vigour and intelligence, and got his just rewards.
He opened with a second place behind home star Martin Vaculik, but then joined Chris Holder for a Wroclaw 5-1 in Heat 5 over Michael Jepsen Jensen and Jan Kvech.
Bewley split the home duo in Heat 8 for second place behind Patryk Dudek, but his night was only getting better and he took a terrific Heat 9 victory over Rohan Tungate with Vaculik relegated to the back.
Bewley won again in Heat 11, this time against Jepsen Jensen and Tungate, as Wroclaw limited the hosts to a 37-32 margin with a halt called after Heat 12 as rain exacerbated the tough conditions.
On a more normal Wroclaw circuit in Sunday Vaculik was unbeatable with an 18-point maximum, but the five-man home side did comfortably enough for a 50-40 win and overall aggregate success.
Bewley combined with Holder again for a 5-1 in Heat 7 over Dudek which took Wroclaw ahead on combined scores, and his maximum with Maciej Janowski against Dudek and Tungate in Heat 13 ensured his side couldn't be beaten for Ekstraliga bronze.
Scores of 12+1 and 8+2 over the weekend will have given Bewley a massive end-of-season boost, as well as renewed optimism as he looks ahead to 2021.
Meanwhile Leszno are Ekstraliga champions for a fourth successive season after a 27-point aggregate victory over Gorzow.
The Bulls were edged out 46-44 in the away leg despite leading by eight points at the halfway stage, but they were easy 59-30 winners at home although that scoreline fails to do justice to the standard of racing.
Elsewhere over the weekend in Division Two, Robert Lambert kept himself sharp ahead of the Speedway of Nations with a 15-point maximum for Wittstock in their 51-39 win over Poznan. Danish U21 reserve Markus Birkemose scored 13+2 for the visitors.
Meanwhile Anders Rowe scored three points from two rides in Rawicz's 16-32 home defeat to Krosno, with the meeting only reaching as far as Heat 8 before being abandoned with the result standing.
And congratulations are due to the three British Youth Champions crowned at Belle Vue on Saturday – Dan Thompson in the 500cc category, Luke Harrison at 250cc level, and Sonny Springer in the 125cc class.