EUROPEAN REVIEW - Brits Top Ekstraliga
Tai Woffinden and Dan Bewley are clear at the top of the PGE Ekstraliga table with Wroclaw after an emphatic 54-36 win at Torun on Friday.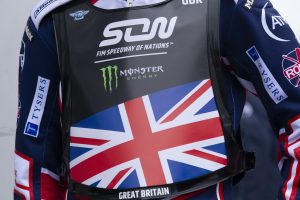 Image courtesy of Taylor Lanning Photography
With 16 points from nine meetings, Wroclaw are five points ahead of fifth-placed Czestochowa and look very well placed to not only reach the play-offs, but also to be strong title contenders.
The Great Britain duo were part of a rock-solid display from the visitors, who opened up with three 4-2s and extended their lead throughout the meeting with Torun failing to record a single advantage.
Woffinden scored 11 points from five rides, combining with Bewley for a superb 5-1 over Jack Holder in Heat 6, and then defeating Pawel Przedpelski and Chris Holder as Bewley missed out in Heat 9.
Bewley recovered from that by winning the all-British battle with Robert Lambert in Heat 12, and ended with another most creditable score of 7+2 from five rides.
Lambert provided the best back-up to top-scorer Przedpelski for the hosts, scoring 8+1 from five rides, and he turned the tables in Heat 14 to finish in positive style with a race win over Woffinden and Bewley.
Lambert and Bewley now head back to Bydgoszcz on Wednesday for the re-arranged opening round of the Speedway Euro Championship, after Saturday's planned staging was postponed due to heavy rain.
Elsewhere, Leszno did their play-off hopes a power of good with a 47-43 win over Czestochowa from a tense contest which went down to a last-heat decider.
Janusz Kolodziej and Jason Doyle were the heroes up against Jonas Jeppesen and Leon Madsen to move the reigning champions up to third place, level on points with Lublin and Czestochowa.
The Lublin-Gorzow fixture was called off and hastily rescheduled for this Sunday, which was a blank weekend in the Ekstraliga schedule, with Gorzow remaining in second place.
Meanwhile the big relegation clash between Grudziadz and Zielona Gora ended 45-45 which was undoubtedly a better result for the visitors, who climb above Torun into sixth place.
The bottom club opened up an eight-point lead and looked set for a vital victory, only for that advantage to be whittled back – and eventually they were thankful for Nicki Pedersen winning a re-started Heat 15 with Kenneth Bjerre kept at the back behind Patryk Dudek and Matej Zagar, who had clashed with Pedersen in the initial staging.
In Division One, there was a shock on Monday as Gdansk dominated at leaders Krosno with their 46-44 victory not being a full reflection of the margin between the sides.
That moves Gdansk to within five points of Krosno, with the sides meeting again this week – whilst Ostrow and Rybnik are only three points off the top with a match in hand.
Rybnik were comfortable 55-35 winners over bottom club Tarnow with paid maximums for Michael Jepsen Jensen, Rune Holta and Sergey Logachev, whilst the troubled visitors suffered with a further injury for the unlucky Niels-Kristian Iversen in his opening ride.
Leon Flint gained experience with two rides for the hosts, although he was unable to score.
Elsewhere Ostrow were involved in a close match before triumphing 46-44 at Lodz thanks to a last-heat 5-1. Grzegorz Walasek took the win and Tomasz Gapinski overtook Norbert Kosciuch and Marcin Nowak. The Bydgoszcz/Gniezno fixture was postponed.
In Division Two there was a landslide 69-21 home win for leaders Opole over Wittstock with Jacob Thorsell unbeaten from five rides, whilst Rawicz were 49-40 winners over Rszezow. Adam Ellis was a late inclusion for the visitors, scoring two points from five rides.