EUROPEAN REVIEW - FIM U21 Final / SGP Vojens
Captain Tom Brennan led Great Britain to bronze medals in the FIM Team Under-21 World Championship.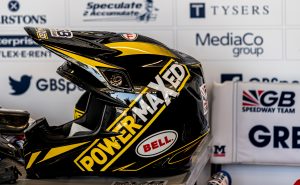 Image courtesy of Steve Hone
It was another fine display from GB as they secured a top three finish for the fourth year in succession, with the event this season switching from the traditional World Cup format to a Pairs event.
And Brennan, backed up by Drew Kemp and Leon Flint, finished third in the qualifying races with 27 points, edging out Australia for that top three place and also finishing ahead of the Czech Republic, Latvia and Sweden.
Brennan won four of his six rides, combing with Kemp for an important early 7-2 over Sweden in their first outing, although they were then beaten by Poland in Heat 6.
The Heat 10 battle with Australia proved significant to the final outcome with Brennan and Kemp holding a maximum for most of the race, and although Keynan Rew got past Kemp off the final bend, it was still a 6-3 advantage for GB.
Leon Flint raced in Heat 12 but Danish duo Marcus Birkemose and Tim Sorensen took the honours, but in Heat 15 GB picked up a 6-3 over Latvia in a race which needed two re-runs.
In the first staging, the promising Francis Gusts fell on the second lap, and the re-start saw Brennan come down after he was left no room by Daniil Kolodinski. Brennan picked himself up to win the re-run with Flint supplying third place.
Kemp returned for Heat 20 but suffered mechanical trouble at the start – but thankfully Brennan took the win over the Czech duo, which ensured GB would finish one point clear of Australia.
Their run ended in the semi-finals at the hands of Danish duo Birkemose and Mads Hansen, with Sorensen having crashed heavily on the back straight earlier in the meeting. Brennan and Kemp initially looked to be in a promising situation but the Danes rode a good first lap and then moved clear.
The Final was an entertaining race with Poles gating only to nearly collide off turn two, allowing the Danes back into play – but Poland then made simultaneous passing moves off turn four, with Jakub Miskowiak getting past Hansen for the lead and Wiktor Lampart doing likewise on Birkemose.
There were also decent nights for British duo Tai Woffinden and Robert Lambert in the Danish Grand Prix at Vojens on Saturday, as Woffinden made the Final and Lambert the semi.
Woffinden scored ten points from his qualifying races, including an important win over Emil Sayfutdinov in Heat 15, and he was a comfortable top-eight finisher despite being passed by Bartosz Zmarzlik in Heat 19.
Lambert matched Woffinden with ten points, picking up seven from his first three rides including a smart move to pass Max Fricke for the win in Heat 12, but his hopes ended in the first semi at the hands of Zmarzlik and Sayfutdinov, although Lambert did take third over Leon Madsen to help his overall total.
Woffinden came through the second semi with Artem Laguta but the main story was an horrific crash suffered by Fredrik Lindgren as he was hit by a lifting Mikkel Michelsen over the start-finish line, and ploughed into the first bend air fence hooked to the front of his bike.
The Swede remarkably emerged relatively unscathed from one of the worst crashes seen in many years, and the Final was taken by Laguta over Zmarzlik with Sayfutdinov keeping Woffinden off the podium.
Fourth place in the meeting, though, was enough to lift Woffinden above Maciej Janowski and up to fifth in the overall standings, now with a 14-point gap over seventh-placed Madsen with two rounds remaining.
Lambert heads to his home track at Torun in eleventh place, but only three points behind Anders Thomsen as he looks to break back into the top ten.
The title race is set to go down to the wire with Laguta now taking the lead, just a point ahead of Zmarzlik, whilst Sayfutdinov is only two clear of Lindgren in the fight for bronze.
Woffinden's attention for the next couple of weeks, though, will be on the PGE Ekstraliga Final after Wroclaw booked their place in the title decider by ending Leszno's reign as champions in the semi-finals.
Woffinden has agreed a new three-year deal with the club and the next two Sundays will see them go for glory against Lublin, who overcame Gorzow in the other semi.
Wroclaw led 49-41 from the away leg so were always strong favourites, although the outgoing champions put in plenty of effort with Jason Doyle outstanding with 17 points in the return fixture.
However, Wroclaw did enough to win 47-43 with Woffinden scoring 11+1 from five rides and getting his side off to a flyer with a 5-1 in Heat 1 along with Laguta over Sayfutdinov and Jaimon Lidsey.
Dan Bewley also made a key contribution with 7+1 from five rides, and after winning Heat 7 superbly ahead of visiting skipper Piotr Pawlicki, he played a part in the race which confirmed their Final place by beating Lidsey for a Heat 13 4-2 with Janowski.
Lublin also led 49-41 from the away leg in Gorzow, and also recorded a 47-43 win at home for an identical 96-84 aggregate victory.
Zmarzlik was again in imperious form with 16 points from six rides, but the home side were more solid despite a bad night for Grigory Laguta which ended in an awful crash.
Laguta had only scored 2+1 from his first three rides, and in Heat 11 he clipped the rear wheel of Szymon Wozniak going into turn three and was flung under the air-fence.
Like Lindgren one night earlier, Laguta appeared to escape serious injuries, and his fitness will be monitored ahead of the first leg of the Final this Sunday.
Promotion to the Ekstraliga will be fought out between Krosno and Ostrow after both came comfortably through their Division One semi-finals following tight battles in the away legs.
Krosno had drawn 45-45 in Gdansk and won the return leg 55-35 at home with Mat Szczepaniak scoring a 13+2 paid maximum and Andzejs Lebedevs winning his first four rides and scoring 13.
Meanwhile Ostrow, who were one point ahead from the first leg, beat Rybnik 59-31 at home with four riders scoring double figures, led by a 12-point maximum for Oliver Berntzon – the result ending Rybnik's hopes of making a rapid return to the top flight.
In Division Two, Landshut completed the formality of aggregate victory over Rawicz, whose future is uncertain due to the end of their co-operation with Leszno.
The German side had won the home leg 60-30 and were 50-40 victors away from home with Kai Huckenbeck scoring a paid maximum and Dimitri Berge dropping just one point.
They will face Opole in the Final, who followed up a 47-43 first leg win in Daugavpils with a massive 63-21 victory at home.