EUROPEAN REVIEW: FIME Euro Final - SGP Warsaw
Robert Lambert is the leading British rider after two rounds of the Grand Prix series, even though he missed out on the semi-finals in Warsaw.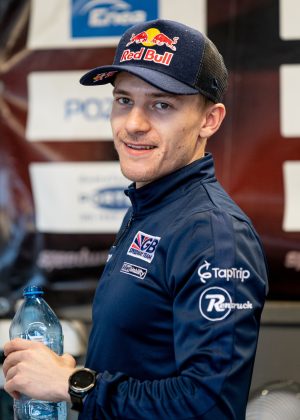 Image courtesy of Steve Hone Photography
Ironically Lambert had made the semis in the first round at Gorican having scored seven points, but a fortnight later in Poland an eight-point total wasn't enough to make it through.
Lambert scored every time but didn't win a race, which cost him on countback against Freddie Lindgren and Mikkel Michelsen, although he continues to nicely establish himself at this level and he eight GP points accumulated leaves him seventh in the overall standings.
Tai Woffinden enjoyed far better fortune than in the opener, with a series of set-up changes seeing him win his final two rides to make it into the semis on nine points.
He missed out at that stage in a race which also saw the elimination of his Wroclaw team-mate Maciej Janowski, but he was still able to bank ten points overall, leaving him tenth in the standings on 14 points.
GB's third competitor Dan Bewley was again the thick of the action, but with five points from his qualifying rides, he missed the cut for a semi-final place.
The semis also saw the elimination of Bartosz Zmarzlik after a close call with Max Fricke forced him to virtually bail out, and there was more drama in the Final when Danish duo Mikkelsen and Leon Madsen made contact, with Michelsen going down and being excluded.
Fricke then flew from the outside to take the second GP win of his career, with Madsen and Lindgren completing the rostrum places. Zmarzlik leads the standings on 32 points but only three points cover the top four riders, also including Madsen, Michelsen and Janowski.
Lambert and Bewley moved on to Poznan on Sunday to represent Great Britain in the FIME European Team Championship, where they came away with bronze medals.
The circuit proved challenging for all, but Poland were the dominant winners on 47 points with Janusz Kolodziej scoring a 15-point maximum whilst Zmarzlik added 14 and Patryk Dudek was also in double figures.
The only scare for the hosts came when Janowski lifted and crashed on the tough surface in Heat 6, forcing Adam Ellis to lay down his machine to prevent a more serious incident.
Bewley led the GB scoring on 11 points, wrecking Zmarzlik's maximum with a brilliant win in Heat 19, and Lambert finished on ten as they finished just one point behind Denmark having been frustrated in the final race by Kolodziej and Lindgren.
Chris Harris collected four points with Ellis on two, whilst reserve Tom Brennan did not take a ride.
In Polish Division One, there was controversy over track conditions in Krosno, initially on Friday when Bydgoszcz were 45-44 winners in a meeting punctuated by remedial work.
Then on Sunday, the track was deemed unfit for racing at all, and visitors Zielona Gora were handed a 40-0 walkover win.
That leaves them top of the table, a point clear of Bydgoszcz, who also fought out a 45-45 draw with Rybnik on Sunday where Nicolai Klindt and Andreas Lyager salvaged a 4-2 from the last race for the visitors, who ended with three successive 4-2s.
Sunday's other meeting was a 52-38 win for Gniezno over Landshut, although Kai Huckenbeck starred for the German side with 16+1 from six rides.
In Division Two, Rzeszow got off the mark with a 30-28 win in a curtailed fixture with Opole with rain forcing an early conclusion – the home side having grabbed a 5-0 in the last race to turn the meeting at what turned out to be the crucial time.
Elsewhere Pila defeated Rawicz 47-43 thanks to a 5-1 in Heat 14 and a win for Max Dilger in the decider, for their first victory of the season.