EUROPEAN REVIEW - FIME Euro Pairs / Ekstraliga
Great Britan duo Tai Woffinen and Dan Bewley will definitely contest the Polish Ekstraliga play-offs with Wroclaw.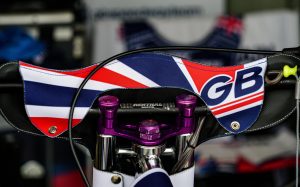 Image courtesy of Steve Hone
A 48-42 home win over Czestochowa in an entertaining meeting last Sunday confirmed Wroclaw's place in the top four, as they now lead fifth-placed Czestochowa by ten points with just two matches remaining.
But they were made to fight all the way for victory with just two points between the sides after Heat 13, before Bewley came up with a brilliant Heat 14 ride to get the better of Kacper Woryna and team up with Woffinden for a match-clinching 5-1.
Woffinden had earlier replaced Bewley with an early tactical substitute ride after Czestochowa raced into a 15-9 lead after four races, and the combination of Woffinden and Artem Laguta got Wroclaw back into the meeting.
But with an inconsistent Gleb Chugunov crashing out in his second ride and finishing last in his fourth, Bewley was the pick for the vital Heat 14 and produced a great effort to pass Woryna.
Bewley finished the meeting on 5+1 from four rides whilst Woffinden collected 12+1 from six, winning his last two outings.
Gorzow and Lublin have also confirmed their play-off places, Gorzow by getting the better of Zielona Gora 48-42 in a meeting where they could never fully shake off their opponents.
Bartosz Zmarzlik dropped just one point, to Patryk Dudek in Heat 15, as Gorzow collected all three league points to move up to 23 with two matches remaining, one behind Wroclaw.
Lublin are also on 23, with one match to go, after a dramatic 46-44 win in Torun on Sunday where Grigory Laguta and Mikkel Michelsen both passed Jack Holder for a 5-1 in Heat 15.
It had looked like the efforts of Robert Lambert in combining with Pawel Przedpelski for a Heat 14 maximum would be enough to officially confirm Torun's survival, but instead they are still left mathematically in relegation danger.
Lambert top-scored with an impressive 11+1 from five rides, leaving him in good shape for this weekend's Grand Prix rounds in Wroclaw, but Torun are left with just seven points from 12 matches.
That, however, may well still be enough to survive as Lublin's other victory was 56-33 over Grudziadz in a Round 13 match brought forward to Monday, and this not only confirmed Lublin's play-off place but also leaves the visitors bottom on five points with just one match to go.
They are one point behind Zielona Gora and two behind Torun, and their last match is a home clash with Czestochowa on August 22, which may well still be relevant for their opponents who are three points behind Leszno.
The reigning champions have yet to secure their play-off place but are in control of their destiny after beating Grudziadz 56-34 with Jason Doyle scoring a five-ride paid maximum.
They are three points ahead of Czestochowa ahead of matches at Zielona Gora and at home to Lublin, whilst their rivals are at home to Torun on August 8 and finish off at Grudziadz.
In Division Two, Rawicz overcame a mid-meeting injury to Jaimon Lidsey to win 47-42 at Daugavpils, which was a second defeat in three nights for the Latvian outfit as they had also gone down 51-38 at Landshut.
Those results mean Opole's lead over Rawicz is down to two points, with the second-placed side having a match in hand, whilst Daugavpils have lost ground in third and are now four points further adrift.
Meanwhile France were victorious for the first time in history in the European Pairs, as Poland failed to defend the crown they had won in Italy a year ago.
David Bellego and Dimitri Berge triumphed at Macon for the hosts, taking advantage of extensive track knowledge to finish four points clear of Polish duo Jakub Jamrog and Grzegorz Zengota.
Latvia completed the rostrum finishers in third, whilst Great Britain were classified fifth after finishing level on points with Denmark, both five adrift of Latvia.
Adam Ellis scored 10+1 from six rides for GB with Chris Harris on 6+1 from five, and Tom Brennan failed to score from his one outing. Italy and the Czech Republic brought up the rear in the meeting.
Polish youngster Oskar Paluch was crowned FIM World 250cc Champion after a weather-affected Final in Cloppenburg, where two British riders managed to advance to the decisive meeting.
Ace Pijper was again top British finisher with five points whilst Luke Harrison scored four. Max James narrowly missed out on a place in the Final and did not get a ride as reserve.