EUROPEAN REVIEW - FIME U19 PAIRS FINAL / PGE
Great Britain's youngsters returned from Gdansk last weekend with bronze medals from the FIME European Under-19 Pairs Championship.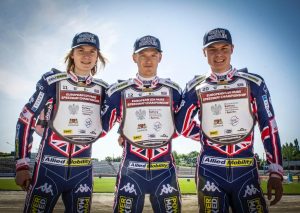 Image courtesy of Taylor Lanning Photography
Drew Kemp starred on his home Polish circuit with five terrific wins, and support from Anders Rowe and then Dan Gilkes saw GB finish the meeting on 21 points, level with the hosts and seven adrift of winners Latvia.
GB scored maximum points in Heat 7 over Germany, and then after Rowe had fallen in the clash with Poland in Heat 13, Gilkes came in to record a 5-1 with Kemp over the Czech Republic in Heat 16.
A shared Heat 21 against Sweden with Gilkes a non-finisher left the scores tied for second place, and in the run-off Kemp lost out to Mateusz Cierniak, who he had beaten in their earlier meeting, to leave GB classified third.
In the PGE Ekstraliga, Wroclaw maintained top spot with, as expected, a hefty home win over Grudziadz.
Tai Woffinden scored his first paid maximum of the season as his side matched the points total they had achieved at Zielona Gora by defeating Grudziadz 63-27.
And in another rock-solid performance by the home side, Dan Bewley added 10+3 from five rides.
Both British riders were involved in classic battles with Nicki Pedersen, who supplied the bulk of the resistance with 11 points but was unable to stop both Woffinden and Bewley from charging past him.
Pedersen did defeat Bewley in Heat 10 but Bewley hit back with a brilliant effort in Heat 12 when the Dane was taking a tactical substitute ride, and then both Woffinden and Maciej Janowski passed Pedersen in Heat 13 – before Woffinden combined with Bewley for a 5-1 in Heat 14.
Wroclaw are level on points with Gorzow, who edged out Leszno 47-43 in a tight battle which also saw them secure the bonus point.
Youngster Damian Ratajczak won his first two rides for the visitors, who were level with three heats to go before conceding two 4-2s – and it leaves them three points off the play-off places.
Czestochowa are up to third after hammering Lublin 56-34, and doing enough to take the bonus in the process.
But Torun are now looking over their shoulders after losing 48-42 at Zielona Gora, although they did collect the bonus point.
The visitors were a three-man team against the much-improved hosts, with Robert Lambert supporting Pawel Przedpelski and Jack Holder.
Lambert picked up 9+1 from his first four rides, including a 5-1 with Przedpelski over Max Fricke and Matej Zagar, but he then suffered last places in Heats 13 and 14.
In Division One, Krosno are five points clear at the top after defeating Gniezno 56-34 with Vaclav Milik scoring a paid maximum.
Nearest challengers Ostrow were emphatic 60-30 winners over Tarnow, and Rybnik are also on 11 points after defeating Bydgoszcz 48-41 – although that meeting was marred by injuries to visiting duo David Bellego and Grzegorz Zengota. Gdansk collected a 46-44 win at Lodz.
In Division Two, there was no racing for Adam Ellis due to track conditions at Rzeszow, with visitors Opole handed a 40-0 walkover win. Meanwhile Poznan were victorious 49-41 at Wittstock.