EUROPEAN REVIEW: Global Challenge
The suspension of the Togliatti GP, which had been scheduled for last Saturday, led to an unusually quiet weekend in terms of international racing and league action.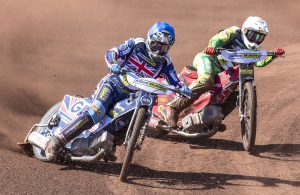 Images courtesy of Taylor Lanning Photography
Great Britain took the opportunity to stage a hugely successful Test Match against the Rest of the World, where the likes of Robert Lambert, Richie Worrall, Jason Doyle and Rasmus Jensen put on a spectacular show at Glasgow.
The RoW triumphed 48-42 in a last-heat decider, with reaction from GB boss Simon Stead here: https://gbspeedwayteam.com/news/a-lot-of-positives-for-gb
Meanwhile the Polish leagues used the weekend to catch up on re-arranged fixtures with Gorzow going second in the Ekstraliga with a 54-36 win over Grudziadz.
The match was some way closer than many had been expected with the home side taking a while to extend their lead, but in the end their three GP stars all reached double figures with Bartosz Zmarzlik top-scoring on 14 points.
With three regular matches remaining for all eight clubs, Lublin lead Gorzow by eight points, with Leszno and Czestochowa a further two behind.
The battle for play-off places sees Torun on 12, Wroclaw on 10 and Grudziadz on 9 – one of them will miss out, whilst scoreless Ostrow are on the brink of having relegation confirmed.
In Division One, Landshut took advantage of Krosno's injury problems to collect a 49-41 win, although the visitors fought hard without concussion victim Vaclav Milk and were still in touch with two heats to go.
Krosno recovered by defeating Gniezno 48-42 at home two days later, with Tobiasz Musielak romping to a 17+1 paid maximum, whilst Rybnik gained a vital 48-42 victory over Gdansk.
That result moves them off the bottom but an intriguing conclusion to the campaign is ahead as both Gniezno (8) and Rybnik (8) still have to race Lodz (10) in the race for sixth place – and to avoid finishing bottom.
In Division Two, Poznan moved to within three points of leaders Opole with a 53-37 win over Daugavpils, with Chris Harris scoring five points for the home side.
Adam Ellis top-scored with nine for the visitors, and that was their second match of the weekend as he had also picked up eight in their 48-42 win over Opole, all of which leaves them fourth in the table with any of Opole, Rawicz, Poznan and Daugavpils still able to finish top.
Lower down, Rzeszow beat Tarnow 51-38 with three 5-1s and a 5-0 in the last four races, leaving Pila six points adrift at the bottom.