EUROPEAN REVIEW: PGE Ekstraliga
Round 6 of the PGE Ekstraliga saw Wroclaw came from four points down to edge out Gorzow 46-44 in an exciting contest which went down to a last-heat decider.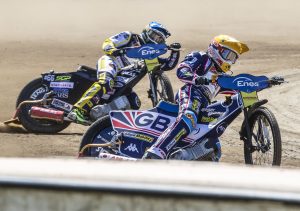 Image courtesy of Taylor Lanning Photography
Tai Woffinden found himself in early trouble as he was excluded from Heat 5 after clashing with Patrick Hansen on the second lap, and after picking up just 3+1 from his first four rides, he turned his meeting around at the crucial time.
Woffinden finished second to Anders Thomsen in Heat 12 but clearly had increased speed by that stage, whilst in Heat 13 Dan Bewley led Bartosz Zmarzlik as he tried to complete a maximum with Maciej Janowski, only for the double World Champion to come through.
But Woffinden then headed a crucial 4-2 in Heat 14 as he fended off Martin Vaculik, whilst Bewley re-passed Thomsen for the vital third place to make it 44-40 in Wroclaw's favour.
And that meant second place for Janowski in Heat 15 would be enough, although he had to do it from the back, splitting Zmarzlik and Szymon Wozniak after the visitors had made the best start.
Woffinden finished with 8+1 and Bewley 6+1, with Janowski leading the way on 16.
Meanwhile Robert Lambert top-scored for Torun with 13 points, including three race wins, in a 47-43 defeat at Leszno, for whom Janusz Kolodziej broke the track record in Heat 4.
The big talking point was Piotr Pawlicki's move on Patryk Dudek in Heat 13 which resulted in the visiting rider hitting the fence but not falling, but still bizarrely being excluded. Lambert had been ahead at the time of the stoppage, but Leszno took a 5-1 in the re-run, the first of two in succession to clinch the match.
Lambert, though, had the final word with a Heat 15 win over Kolodziej which ended the home rider's maximum hopes – but without the controversy of Heat 13, the match should have finished in a draw, and there has been major criticism of the referee's decision.
Elsewhere in Round 6, Lublin maintained their 100 per cent record with a comfortable 55-35 win in Ostrow, with Mikkel Michelsen top-scoring on 15+1 from six rides.
Leszno are second on ten points, whilst Czestochowa have moved level with third placed Gorzow after a massive 65-25 win over Grudziadz.
Leon Madsen, Bartosz Smektala and reserve Mateusz Swidnicki all scored maximums against a visiting side heavily weakened by the injury to Nicki Pedersen, and who went down to their biggest-ever defeat.
In Division One, Zielona Gora lead the way and are still unbeaten after defeating Bydgoszcz 48-42 at home, in a meeting which went right down to the wire with the scores level after Heat 13.
Adrian Miedzinski crashed out of the deciding race, with Max Fricke (15+1) and Krzysztof Buczkowski sealing a clinching 5-1 for the hosts.
Krosno put their home track controversy behind them with a massive 61-29 away win at Gniezno with Andzejs Lebedevs scoring a 15-point maximum, and they are now second in the table ahead of Bydgoszcz. Another talking point from the meeting was the performance of 16-year-old Franciszek Karczewski, who scored 8+2 for the visitors.
Landshut complete the top four after a 50-39 win over Lodz, whilst Gdansk are off the mark with their first victory of the season, defeating Rybnik 53-37.
In Division Two, there was a sensational performance from Tom Brennan, who scored 13 from five rides, including four race wins, as Rawicz stunned Daugavpils with a 45-44 win in Latvia.
For Brennan it completed a tremendous weekend after his 13-point haul in Pardubice for the GB U23 side who won their FIM European Team Championship qualifier.
It was a good meeting all-round for the British riders as Adam Ellis top-scored for the home team with 10+2 from five outings.
With leaders Poznan not racing, Opole moved to within two points of top spot with a big 57-33 away win at Tarnow, whilst Rzeszow are off the bottom after winning 49-40 at Pila, who replace them in the basement position.
Meanwhile Dominik Kubera dominated the third SEC qualifier at Nagyhalasz with a 15-point maximum – despite a heavy crash in his first ride when he was brought down by Oliver Berntzon.
The Swede still made the cut with 11 points, and the other riders to go through were David Bellego, Marko Levyshn and Vaclav Milik, whilst Chris Harris scored seven points and was in contention until a retirement from his final ride.
The SEC Challenge takes place at Krsko in June 18.