EUROPEAN REVIEW - PGE Ekstraliga
Dan Bewley gained the biggest scalp of his career with a sensational win over World Champion Bartosz Zmarzlik at Wroclaw on Sunday.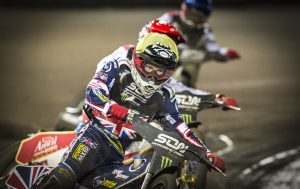 Image courtesy of Taylor Lanning Photography
On the first weekend of the season with supporters back in stadiums, Bewley brought the house down at the Olympic Stadium by partnering Maciej Janowski to an epic Heat 7 5-1 as they fended off Zmarzlik between them.
Both home riders gated and put on a perfect exhibition of team-riding with Janowski then allowing his far less experienced team-mate to pull clear over the last lap or so.
Zmarzlik had only dropped two points in his first four Ekstraliga matches of the season, and although he still showed his class to score 14 in total, it wasn't enough to stop Gorzow's 100 per cent record being smashed as Wroclaw, despite still being without Tai Woffinden, raced to a 52-38 win.
Bewley had also out-gated Zmarzlik in Heat 3 before the Pole and Anders Thomsen surged through – and although Zmarzlik was also on top in their latter two meetings, Bewley further delighted the home crowd with two smart overtaking moves on Szymon Wozniak, the first coming off the last bend of Heat 11.
He finished with 7+2 from six rides, providing excellent back-up to Artem Laguta (15+1), Janowski (13+1) and an inspired Gleb Chugunov (14+1).
The match completed a superb weekend programme with the on-track action clearly ramping up to match the atmosphere created by the fans in the grandstands.
But Robert Lambert's Torun side found themselves on the wrong end of a 41-49 home reverse to Czestochowa, who regained form in dramatic style thanks to a remarkable 13+1 haul from reserve Jakub Miskowiak.
Lambert himself scored 6+1 from four rides, his best moment being a 5-1 alongside Adrian Miedzinski over Bartosz Smektala and Kacper Woryna in Heat 5 which briefly put the home side ahead – but it was a lead they were unable to maintain despite a 15+1 score from Jack Holder.
Saturday's action included a dramatic 45-45 draw between bottom club Grudziadz and Lublin, which produced excellent racing until rain affected the closing stages.
Grudziadz may well have gained a notable win had Nicki Pedersen not broken the tapes in Heat 13, with Pedersen and a revitalised Kenneth Bjerre having to follow Mikkel Michelsen home for a 3-3 in skidpan conditions in Heat 15.
But the point was still enough to move Grudziadz off the bottom as Zielona Gora were comfortably beaten 54-36 at Leszno.
Janusz Kolodziej raced to a 12-point maximum for the hosts, with Jaimon Lidsey adding 11 after a first-ride last place, whilst Patryk Dudek led the way with 12 for the visitors.
Gorzow still top the table, a point clear of Lublin and two ahead of Wroclaw, whilst Leszno also have six points and a match in hand.
In Division One, Ostrow collected the big result of the weekend with a thumping 57-33 triumph in Tarnow to get off the mark in emphatic style.
Also on Saturday Lodz won 45-44 in Gdansk – the home side making things closer with two late 5-1s – but the drama of the weekend was reserved for Sunday.
Bydgoszcz led Rybnik 42-36 after Heat 13 with a 5-1 in that race seemingly proving crucial – only for the visitors to hit back with two maximums of their own inspired by Kacper Gomolski to snatch a 46-44 victory.
In Division Two, Rawicz were 49-40 winners over Rzeszow, where a tough season-opener for Adam Ellis saw him score two points from five rides, including an exclusion for movement at the start. Elsewhere, Opole comfortably beat Poznan 55-35.