EUROPEAN REVIEW - SEC Challenge / PGE Ekstraliga / FIME U19
Great Britain will have two riders in this year's Speedway Euro Championship after Dan Bewley's brilliant display in Pardubice last weekend.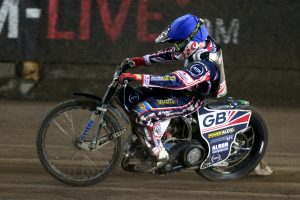 Bewley finished second in the SEC Challenge at the Czech Republic venue to take one of the five qualifying places on offer, and now progresses to the four-round Final series where he joins reigning champion Robert Lambert.
The Belle Vue and Wroclaw rider was always in control of his destiny from his first ride when he surged around former World No.2 Patryk Dudek to take a superb victory, and he also won Heat 6 to go onto maximum points from two rides.
His only real setback came when he was relegated to third place by Jakub Jamrog in Heat 11 as Vadim Tarasenko took the win, but second place in Heat 13 kept him in the frame on nine points.
And despite a long wait until Heat 20, Bewley duly delivered with a win over 2017 champion Andzejs Lebedevs to go level on points with Dudek and book his place in the series.
Dudek won the run-off for meeting victory but that wasn't going to spoil Bewley's day, whilst the other qualifying places were taken by Sergey Logachev, Lebedevs and Patrick Hansen.
Ten riders for the SEC series are now known with Saturday's top five joining those who qualified by 2020 finishing position: Lambert, Leon Madsen, Mikkel Michelsen and Bartosz Smektala, along with Nicki Pedersen who finished sixth last year but was upgraded after Grigory Laguta withdrew.
Series organisers OneSport have five permanent wild card picks, along with one further wild card per event.
The series gets underway at Bydgoszcz on June 12 with further rounds at Gustrow (June 26), Gdansk (July 3) and Rybnik (July 10).
Further good news for Great Britain was Tai Woffinden's return from injury at Wroclaw on Sunday in another eventful weekend of Ekstraliga fixtures which ended with Lublin unexpectedly on top of the table.
They took a comfortable 51-39 win over Torun to make it four wins and a draw since losing their opener at Gorzow – and without Lambert, the difference between the sides would have been much wider.
Lambert put in a tremendous display on his old circuit to rack up 14 points from six rides, winning three races at least keep Torun in with a chance of the bonus point later in the season.
He was overhauled by Laguta in Heat 1 but won Heat 5 ahead of Dominik Kubera and Jarek Hampel, and then secured back-to-back successes in Heats 13 and 14 – the first of those seeing him become the only rider to take a point off Michelsen throughout the meeting.
Leszno were 51-39 winners at Grudziadz in Friday's other fixture, the visitors pulling clear in the closing stages after being only two points up with five heats to go.
There was sensation on Sunday afternoon when leaders Gorzow were defeated 46-44 at home by Czestochowa, who are now firmly in play-off contention.
The highlight of the win was another remarkable showing from star reserve Jakub Miskowiak who scored 14 from five rides, whilst colleague Mateusz Swidnicki took the incredible scalp of World Champion Bartosz Zmarzlik in Heat 7.
Although Leon Madsen only tallied 6+1 from five rides, Kacper Woryna enjoyed his best meeting in Lions colours, as having scored just 12 points in total from his opening five meetings, he accrued 10+2 from five on the day – and combined with Fredrik Lindgren for a 3-3 in Heat 15 ahead of Szymon Wozniak to seal the shock result.
Woffinden was back in business at the Olympic Stadium on Sunday evening as Wroclaw defeated Leszno 47-43 in a meeting generally controlled by the home side.
Jason Doyle got the better of Woffinden in Heat 4 but the former World Champion got his first win on the board in Heat 7 when he combined with Artem Laguta for a 5-1 over Piotr Pawlicki.
He then relegated Emil Sayfutdinov to last place in a competitive Heat 9, and added a further third place in Heat 13 ahead of Jaimon Lidsey as Wroclaw recorded a 4-2 to clinch victory.
Both Woffinden and Bewley finished with seven points from five rides, Bewley recovering from a last place in Heat 1 to give another solid display and complete a productive weekend.
Maciej Janowski was Wroclaw's star man again with 14, whilst Leszno's late comeback gives them realistic hope of the bonus point.
With the halfway stage approaching next weekend, Lublin lead the way on nine points but are only one clear of Wroclaw, Gorzow and Leszno who all have eight. Czestochowa's recent improvement has seen them move into contention on six.
Zielona Gora did not race over the weekend and are bottom of the table on two, a point behind Grudziadz with Torun a further point ahead.
The Division One weekend schedule opened with a big 60-30 win for leaders Krosno over Tarnow, whilst in Division Two Opole were 54-36 winners at Landshut, and Rawicz won 48-42 at Poznan.
Meanwhile Dan Gilkes remains involved in the FIM European Under-19 Championship following Saturday's qualifier in Nagyhalasz.
Racing on the continent for the first time, Gilkes scored ten points from five rides at the Hungarian venue to finish a very creditable sixth in the meeting.
A third place in his last ride left him agonisingly one point short, but he will still travel to the Final in Latvia later this summer as reserve – and could be called up for the event itself if there are fitness issues for other riders.
Ernests Matjusonoks, Francis Gusts, Mateusz Cierniak, Karol Zupinski and home rider Petr Chlupac took the five qualifying places.