EUROPEAN REVIEW: SEC Challenge Result
Great Britain will have two riders in this season's Speedway Euro Championship after Adam Ellis made it through the SEC Challenge in Slovenia.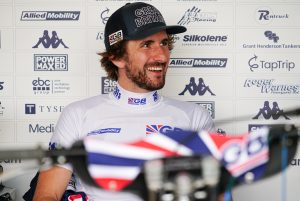 Image courtesy of Steve Hone Photography
Ellis was called into the meeting as first reserve due to injury for Janusz Kolodziej, and he started the Krsko event superbly with wins in his first two rides.
Qualification turned into a close battle thereafter, but Ellis added three third places to finish on nine points – just one clear of five riders who all tied on the eight-point mark.
Former SEC winner Andzejs Lebedevs won the meeting on 13 points to book his return to the series, and the other qualifiers were Dimitri Berge, Rasmus Jensen and Bartosz Smektala.
Ellis joins Dan Bewley in the main competition, as Bewley was already a confirmed starter thanks to finishing fifth overall last year. The opening round is at Rybnik on Saturday July 2, with further rounds to come at Gustrow, Lodz and Pardubice.
In the PGE Ekstraliga, Torun made progress into the top six with Robert Lambert starring again in their 53-37 win over Leszno.
Lambert scored 13+2 from six rides, including three race wins, with Patryk Dudek also notching paid 15 in a comfortable home win despite a 17-point haul for Jason Doyle, as the visitors raced without injured duo Janusz Kolodziej and Piotr Pawlicki.
Whilst Torun now hold fifth place, defending champions Wroclaw are outside the play-off places after they lost 52-38 at Gorzow, leaving them seventh in the table.
There was a superb win for Bewley in his first ride as he held off everything that Bartosz Zmarzlik could throw at him on his home track, and Bewley (12) and Maciej Janowski (12+1) accounted for the bulk of the Wroclaw scoring.
Tai Woffinden troubled by rib damage after his crash in his own Testimonial meeting, scored 7+1 from seven rides including one win, with Wroclaw further hampered by the injury absence of Gleb Chugunov.
Elsewhere there was another notable win for Grudziadz, who defied their injury problems to defeat a full-strength Czestochowa 48-42 thanks mainly to a 17-point score from No.8 rider Norbert Krakowiak.
And Lublin continue to march on at the top, their lead now up to five points after they defeated basement club Ostrow 51-39 despite being without star man Mikkel Michelsen after his midweek crash in Denmark.
In Division One, leaders Bydgoszcz held on for a narrow 46-44 win over Krosno although Adrian Miedzinski suffered a heavy crash in his final ride.
Matters were effectively decided when Krosno's Mateusz Szczepaniak crashed out in Heat 15 and received no sympathy from the referee, meaning the home riders were able to follow Lebedevs for a 3-3.
Piotr Protasiewicz returned from injury in Zielona Gora's 57-33 win over Lodz, where Max Fricke scored a paid maximum meaning they remain level on points with Bydgoszcz at the top of the table.
Meanwhile Gdansk moved off the bottom by beating Landshut 48-42, leaving Rybnik and Gnieszno level on points below them. Their match was postponed on Monday and will now take place on Thursday.
In Division Two, Rawicz went top with a 53-37 win at Poznan in a complete reverse from their clash a month ago when Poznan had taken a 51-38 away win. Tom Brennan scored four points from three rides for the visitors.
Meanwhile Tarnow recovered from conceding 5-1s in the first two races to defeat Rzeszow 52-37.