EUROPEAN REVIEW - SEC / FIME U19 / Ekstraliga
Great Britain youngsters Drew Kemp, Leon Flint and Jordan Palin have all qualified for the European Under-19 Final.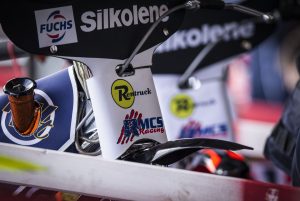 Image courtesy of Taylor Lanning Photography
The trio will head to Latvia in early August after booking their places by finishing a superb second, third and fourth in last Saturday's qualifier at Czech Republic venue Divisov.
With only five riders making it through there was little margin for error, and Flint recovered superbly from a third place in Heat 3 when he finished behind the other two riders who would ultimately also progress.
Flint won his next three rides to move on to ten points, whilst Kemp had 11 at that stage after dropping a solitary point to Flint in Heat 6.
Palin started with a win and then notched three successive second places, which put him under a little pressure ahead of his final outing, whilst second spot for Flint in Heat 17 and Kemp in Heat 18 secured their progression.
Palin had to wait until Heat 20 to make sure but did his job superbly by beating Norick Bloedorn, with the German rider also making it through.
Kemp's 13 points saw him finish one behind meeting winner Bartholomiej Kowalski, whilst Flint defeated Palin in a run-off for third place on the day after both ended on 12.
GB will have a fourth representative in the Final as Dan Gilkes had already qualified as reserve, and he will be hoping to take advantage of any possible call-up to the main event prior to the meeting date.
The second round of the Speedway Euro Championship at Gustrow proved a tougher day for the British competitors, although Dan Bewley holds fifth place in the series at the halfway stage.
Bewley reached the last chance race-off at the German venue in a meeting where the outside gates were totally dominant, a fact which went against the British riders in the second half of the meeting.
Robert Lambert was particularly affected, scoring five points from his first two rides but then failing to add to that total from inside starts, whilst Bewley also scored five from two and then added one more when Andzejs Lebedevs was excluded for bringing down Piotr Pawlicki
That meant a win in his last programmed ride was enough for Bewley to finish in the top six on nine points, but his run ended there as an inspired Leon Madsen went from fourth to first to join Bartosz Smektala in the Final along with Pawlicki and Patryk Dudek.
Pawlicki took control of the Final for his first SEC victory ahead of Madsen and Dudek, leaving him five points clear at the top of the standings heading to Gdansk this weekend.
Bewley is nine adrift, but importantly has a three-point gap to sixth-placed Kai Huckenbeck, whilst Lambert is currently tenth, seven adrift of the top five.
In the PGE Ekstraliga, the battle at both ends of the table has intensified after some thrilling action in Round 10 out of 14 which leaves five clubs still vying for four play-off places.
Wroclaw remain on top after seeing off Lublin 51-39 – but a second place for Grigory Laguta in Heat 15 secured the visitors a potentially priceless bonus point.
Tai Woffinden scored 11 points from five rides for the hosts with Bewley adding 5+1, and the duo combined for a tremendous 5-1 over Mikkel Michelsen in Heat 7.
Gorzow are one point behind Wroclaw after a somewhat laboured 49-41 win over Grudziadz, and they have a three-point gap to three teams behind who are all level on 14 points.
Leszno were 49-41 winners in Torun, despite the efforts of Lambert who scored 9+1 from five rides and was involved in a thrilling battle with Emil Sayfutdinov when he got the better of the Russian in Heat 6.
The result moved Leszno third, level on points with Lublin, and also with Czestochowa who were 46-44 winners in an extraordinary meeting at Zielona Gora in which they led by six points at the halfway stage before going 41-43 down thanks to back-to-back 4-2s from the home side in the closing stages.
But Madsen and Kacper Woryna stunned the hosts with a last-heat 5-1 over Dudek and Piotr Protasiewicz, who had both already scored double figures.
That result also keeps Zielona Gora in the fight to avoid relegation as they have just six points, one ahead of Torun, and one more ahead of Grudziadz – and the bottom two are set to meet in a crunch showdown this weekend.
Division One has new leaders for the third time in a week with Ostrow taking over at the summit after winning 51-39 at rivals Rybnik, and all of the contenders have now raced equal matches.
Elsewhere, Lodz defeated Bydgoszcz 51-39 in a mid-table battle, that result coming two days after they had lost heavily 59-31 at Gniezno.
Ostrow have 17 points with four matches remaining, with Rybnik (16) and Krosno (16) also looking good, whilst Gdansk currently have control of fourth place on 14.
In Division Two, Rawicz consolidated second place with a 50-40 win over Poznan, whilst Landshut went third by dominating the all-German derby against Wittstock 59-30.