EUROPEAN REVIEW: SGP Challenge
Dan Bewley clinched his Grand Prix place for 2023 with second position in a highly eventful GP Challenge at Glasgow on Saturday.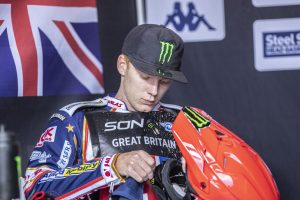 Image courtesy of Taylor Lanning Photography
Bewley is already well placed to qualify automatically for next year's series as he holds fourth spot following his win at Cardiff, but any pressure has now been completely released following the result at Ashfield.
Bewley scored 13 points and made sure of progression with a vital victory in a crunch Heat 19, before losing out in a run-off to Kim Nilsson who was a surprise but deserved meeting winner.
Jack Holder took the third qualifying place, beating Max Fricke in a run-off, although Fricke's future may well also be secure assuming Bewley finishes in the top six of the main series.
Robert Lambert won three races but missed out on qualification due to a last place in that Heat 19, which left him on ten points.
There were a series of incidents and withdrawals in a hotly contested meeting, with Oliver Berntzon crashing out in practice whilst Vaclav Milik, Anders Thomsen and Chris Holder were all unable to complete the event due to accidents.
Bewley was then back in action in the Ekstraliga play-off quarter-finals, racing for Wroclaw on Sunday in a 44-46 home defeat to Czestochowa.
The home side's scoring was dominated by three riders with Maciej Janowski piling up 15+1, Bewley adding 13 from six rides including three wins, and Tai Woffinden being involved in two 5-1s as he racked up 9+5 also from six outings.
The visitors made a fast start to the meeting as they went 9-3 up prior to a Wroclaw comeback which took them level at the halfway stage, but the heroics of Kacper Woryna with 12+2 and some spectacular riding along the way saw Czestochowa edge an away win.
Elsewhere on Sunday, Lambert top-scored for Torun with 12+1 but they were disappointed to only win 46-44 at home to injury ravaged Gorzow, who were superbly served by Bartosz Zmarzlik with a bumper 19-point haul.
The home side's win on the day was only decided in Heat 15 after a tremendous battle between Patryk Dudek and Zmarzlik, but it was still a fine containing job by Gorzow who look set to welcome back Martin Vaculik for the return fixture, although Thomsen is out for the season.
Lublin were clear winners of their first leg at Leszno as they triumphed 49-41 with Dominik Kubera starring on his old home track with 13+1 from six rides.
Mikkel Michelsen missed his final outing after clashing with Jarek Hampel in Heat 13, but the league leaders still put themselves into a strong position.
In Division One, Zielona Gora completed an aggregate win over Lodz, overturning a 50-40 first leg defeat by winning the return 52-38 with veteran Piotr Protasiewicz scoring a paid maximum.
Lodz, though, still go through as 'lucky losers' with their aggregate result better than Gdansk and Landshut, who were no match for Krosno in an injury-hit state and went down to a 58-32 defeat, losing by 36 points on aggregate.
Lodz will face Krosno in the semi-finals with Zielona Gora taking on Bydgoszcz.
In Division Two, Opole clinched a place in the Grand Final with a 49-41 win over Daugavpils to win 90-82 on aggregate in a close contest in which the scores were still level with five races remaining.
Opole now await their opponents in the Final as the other semi between Poznan and Rawicz was rained off.