EUROPEAN REVIEW - SGP Challenge
Great Britain's riders fell frustratingly short in the race for places in the Grand Prix Challenge last weekend.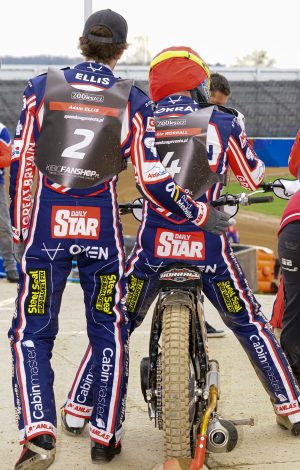 Image courtesy of Steve Hone Photography
The four qualifying rounds each carried four places for the Challenge in Sweden on August 19, but as things currently stand GB will not be represented in Gislaved.

Closest to qualification was Robert Lambert, who tied for third place on 12 points in Zarnovica, but then missed out in a three-way run-off with Luke Becker and Frederik Jakobsen – with Martin Vaculik and Szymon Wozniak the top two on the day.
Lambert, of course, is a current Grand Prix rider and will be hoping he can now secure his 2024 place via a top-six finish this year.
There was also a near-miss for Adam Ellis, who was just one point adrift in Debrecen after missing out in his final ride to Jacob Thorssell. Ellis scored 11 points whilst Thorssell took the final place on 12, behind the top three of Jack Holder, Andzejs Lebedevs and Michael Jepsen Jensen.
Tom Brennan gained good experience of racing at this level with a score of eight points in Lonigo, despite suffering a fall when his Belle Vue team-mate Jaimon Lidsey dived inside him and locked up. Lidsey's exclusion proved disastrous for his own chances in a meeting where home favourites Nico Covatti and Paco Castagna both used their track knowledge to secure top four finishes.
Piotr Pawlicki won the meeting on 13 points before Covatti won a three-man run off for second place ahead of Jan Kvech and Castagna.


Meanwhile in Abensberg Chris Harris won his first ride but finished down the order on five points with Jason Doyle, Przemyslaw Pawlicki, Dimitri Berge and Martin Smolinski making it through.
In the PGE Ekstraliga, Wroclaw marched on the top of the table as they extended their 100 per cent record to seven matches with a 62-28 demolition of Krosno.
Dan Bewley scored a four-ride paid maximum as he finished with 10+2, whilst Tai Woffinden recovered from a last place in his first ride to go unbeaten for the rest of the meeting with 11+1.
Maciej Janowski was another paid maximum scorer with 14+1 from five rides, with Lebedevs taking Krosno's one and only race win.
Lublin remain four points behind Wroclaw after a comfortable 55-35 win over Grudziadz, although Bartosz Zmarzlik (14) was denied a full maximum by the in-form Max Fricke, who scored 14 points from six rides.
The closest meeting of Round 7 saw Czestochowa go clear in third place with a 49-41 win over Torun, with the home side building their lead in the opening races but then being unable to extend further.
Mikkel Michelsen scored 14 for the home side, being denied a maximum by Emil Sayfutdinov, who scored 12 as the Torun top three including Lambert (11) and Patryk Dudek (10) kept their side in contention for the bonus point.
The weekend's other fixture saw Gorzow record a comfortable 57-33 win over Leszno leaving them fourth in the table, one point behind Czestochowa.
In Division One, leaders Zielona Gora are now six points clear after an emphatic 55-35 away win at Lodz. Rohan Tungate scored a five-ride paid maximum with 11+4, and was one of four double figure scorers, with Przemyslaw Pawlicki scoring a four-ride full maximum - whilst Tom Brennan took two rides at No.8 for Lodz but did not score.
Zielona Gora are on 12 points and there are now five teams on six points, including Landshut who raced to a 50-40 win over Rybnik, and Poznan who defeated Gdansk 49-41.
The one fixture in Division Two had a dramatic finish with Rzeszow pulling back from 35-25 down to win at Gniezno with 5-1s in Heats 13 and 15.
Marcin Nowak and Peter Kildemand stunned the home side in the last race as they got the better of Sam Masters and Kacper Gomolski for a win which takes them second in the table, one point behind leaders Opole.