EUROPEAN REVIEW - SGP / Ekstraliga
Tai Woffinden is the highest-placed British rider after the opening rounds of the 2021 Grand Prix series in Prague.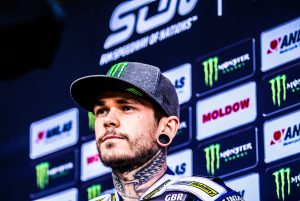 Image courtesy of Taylor Lanning Photography
Woffinden's Wroclaw team-mate Maciej Janowski took the major honours with victory in round one and second place to Artem Laguta in the re-staged round two, giving him a six-point lead over the Russian and fellow countryman Emil Sayfutdinov.
Woffinden sits fifth overall following the weekend action with 24 points to his name, 14 adrift of Janowski after scrapping hard for third place on Friday but then failing to make the semi-finals on Sunday.
He may well reflect that he was in a useful position on Saturday with six points from three rides – but when the heavens opened during and after Heat 11, in which Woffinden finished third, there was no chance of continuing and the meeting was re-run from scratch the following afternoon.
Friday's meeting saw Woffinden pick up nine points from the qualifiers, including two race wins, as he recovered from a last place in his third ride, and he also finished ahead of rival Bartosz Zmarzlik when they met in Heat 4.
He came through the second semi-final along with Janowski as Laguta and Fricke missed out, whilst the Final turned into a three-man race as Fredrik Lindgren broke the tapes, with Janowski coming out on top in a battle with Sayfutdinov as Woffinden settled for third.
On Sunday, Woffinden was left playing catch-up after finishing last in Heat 4 behind Jason Doyle, Sayfutdinov and Zagar, and although he pulled off a good ride to get the better of Lindgren in Heat 6, two subsequent third places did not aid his cause.
Woffinden won Heat 20 ahead of Fricke but it wasn't enough to reach the semis, and he had to watch on in a thrilling Final as Laguta reeled in leader Sayfutdinov, who then went backwards on the last lap to lose out to both Janowski and Lindgren.
Robert Lambert is in 13th place overall on nine points, although he did score a solid seven on the night in round one, including a fine Heat 8 ride to get the better of Matej Zagar and Max Fricke off the second bend, with Janowski running a surprise last.
But a last place in Heat 18 ruled him out of the semis, and whilst he wouldn't have been upset to see Saturday's meeting abandoned as he had scored two points at the time, Sunday saw him collect three on the day courtesy of third places in his first three rides.
The series resumes with another double header in Wroclaw on the weekend of July 30/31 with home rider Gleb Chugunov named as wild card.
Division One in Poland is set for a dramatic run down to the play-offs, with five teams scrapping for top four positions, and only three points separating them.
Ostrow lead the way after defeating Rybnik 48-42 to complete the double and move on to 20 points, one ahead of their opponents with two matches to go.
Krosno are also on 19 but their position is now far less secure, especially after losing 51-39 in Lodz despite a 17-point haul from Tobiasz Musielak, with Lodz also doing enough for the bonus point.
That means the door is now wide open for both Bydgoszcz and Gdansk who are on 17 points apiece, Bydgoszcz having thrashed relegated Tarnow 63-27 away from home, whilst Gdansk were 52-37 winners over Gniezno.
British U21 runner-up Drew Kemp, who finished second to Tom Brennan at Redcar on Friday with Dan Gilkes completing the rostrum finishers, was an unused No.8 for Gdansk in the meeting.
With Krosno having to visit Bydgoszcz and then race Rybnik at home – whilst Gdansk also have a match to come against Tarnow – it could be that the former leaders miss out in the promotion race altogether.
In Division Two, Daugavpils collected home wins over bottom side Wittstock (58-32) and Rzeszow (50-39). Landshut thrashed Poznan 58-32 and Rawicz defeated leaders Opole 55-35 to move to within four points at the top with two matches in hand.
Meanwhile British youngster Ace Pijper was the best of the GB trio in the European 250cc Final at Torun as he, Max James and Luke Harrison all fought their way through from Friday's semis.
Pijper finished seventh in the Final on eight points, with Harrison one behind on seven, and James scoring one. The title was won by Polish rider Oskar Paluch.