EUROPEAN REVIEW - SGP / Ekstraliga
Tai Woffinden is sixth in the World Championship whilst Robert Lambert sits in eleventh after two eventful rounds in Wroclaw last weekend.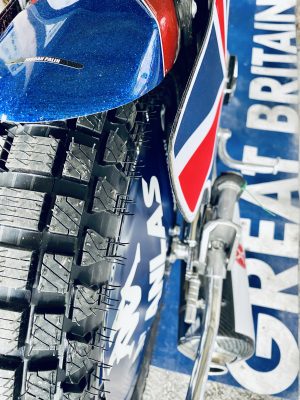 Woffinden bounced back from a tough Friday night to reach the Final on Saturday, whilst Lambert continued to make progress as he adapts to full-time GP racing, with two semi-final appearances.
Unfortunately, the relatively new points system very much counted against him in Round 3 after a superb performance to score 11 points from his five qualifying rides, exceeded only by Leon Madsen, Artem Laguta and Bartosz Zmarzlik – who Lambert beat in a stunning Heat 6 which also saw him take the scalps of Maciej Janowski and Woffinden.
Fast-starting Lambert also defeated Fredrik Lindgren in Heat 16 but it all went wrong in the first semi-final when he was excluded for touching the tapes – leaving him with fewer GP points than his actual race points on the night.
Woffinden struggled for speed all evening and finished with five on his home track, whilst the meeting ended with some controversial action as Madsen was excluded from his semi after diving inside Emil Sayfutdinov – whilst Sayfutdinov himself was then ejected from the Final after a heavy crash when Janowski attempted to drive under him and Laguta.
The re-run saw a thrilling battle between Zmarzlik and Janowski, resolved in favour of the current World Champion, with Laguta in third place.
On Saturday, Woffinden was right back to his best with a brilliant 14-point haul in the qualifiers, missing out only to Sayfutdinov in Heat 13. He had earlier passed Matej Zagar on the last lap to win Heat 5, and got the better of Madsen in a nip-and-tuck battle in Heat 9, before defeating Laguta and Janowski in his final programmed ride.
Lambert, meanwhile, couldn't quite match his 11-point haul of Friday, but did notch a more than solid nine, which included a quite superb move to blast past Zmarzlik in Heat 8 for another win over the sport's top man.
Both British riders ended up in the first semi-final and whilst Woffinden progressed with Madsen by passing Sayfutdinov on the second lap, Lambert was again eliminated at that stage.
The Final saw Woffinden denied a rostrum place after being unable to make it from gate four – although he had a grandstand view of Zmarzlik's battle with Laguta, with the Pole trying the outside repeatedly before switching back off turn four and snatching victory for a Wroclaw double.
Woffinden heads to Lublin with 44 points, level with Madsen just behind him on countback, and 22 behind joint leaders Janowski and Laguta, who have Zmarzlik breathing down their necks just three points adrift.
Lambert is well in touch with those around him on 27, and a good performance on his former home track could well see him break into the top ten.
Woffinden and Dan Bewley are now assured of top spot in the PGE Ekstraliga heading into the play-offs after their emphatic 42-30 win at Gorzow on Sunday.
The meeting was curtailed three races early due to the weather, but Wroclaw had plenty in hand against their injury-hit hosts, who raced without Szymon Wozniak and reserve Wiktor Jasinski.
Whilst Woffinden had a quiet evening after a spectacular fall in his first ride when he lifted on turn two, Bewley put in another tremendous display to score 9+1 from four rides.
That included a paid-win with Laguta up against GP regular Martin Vaculik in Heat 5 to put the visitors 10 points up, and then a brilliant ride to win Heat 11 against Vaculik and Anders Thomsen when the home side threw everything into that race.
Woffinden finished with 4+1 from his other three rides, sharing in a 5-1 with Gleb Chugunov in Heat 6 against Zmarzlik, and the result means Wroclaw are four points ahead of Gorzow and Lublin with one match remaining.
Fourth place has now been secured by champions Leszno, who pulled off a dramatic 46-44 win in Zielona Gora in a rearranged fixture on Monday to put them out of reach of Czestochowa, who have two matches remaining.
The home side took a 5-1 in Heat 14 to level the scores but Leszno – missing the injured Jaimon Lidsey - responded with a 4-2 in a thrilling Heat 15 with Piotr Pawlicki heading Max Fricke whilst Sayfutdinov closed the door on Patryk Dudek.
The result also leaves Zielona Gora in significant danger as they are only one point ahead of Grudziadz, with their final match being away at Wroclaw – whilst Grudziadz finish off at home to Czestochowa, who will have only pride to ride for.
In Division One, three clubs have now confirmed their play-off places with one left to race for in the final round.
Rybnik lead the table after a 54-36 win over Gdansk, a result which leaves the visitors outside the top four, but still level on points with Bydgoszcz who lost 37-41 at home to Krosno in a weather-curtailed meeting.
Drew Kemp scored two points from three rides for Gdansk, who are now in a direct head-to-head with Bydgoszcz for the last play-off place, as Ostrow also booked their spot despite a 50-40 defeat at Gniezno, as they did easily enough for the bonus point.
Elsewhere, relegated Tarnow avoided the ignominy of a pointless season by defeating second-bottom Lodz 54-36.
But Gdansk may well have control in the final round as they race at home to Tarnow, whilst Bydgoszcz must visit Ostrow.
In Division Two Landshut were emphatic 59-31 winners at German rivals Wittstock, who were then on the end of a 58-32 loss to leaders Rawicz – who are one point ahead of Opole with both sides having three matches remaining.
GB's Under-23 youngsters finished third in their European Team semi-final in Brokstedt, Germany on Sunday. Denmark won the event on 47 points with the hosts second on 44, whilst GB carded 27 – with Kemp top-scoring with 11 points from five rides. Tom Brennan and Leon Flint both notched six, the latter winning his first ride, whilst Jordan Palin picked up four and Dan Gilkes failed to score from two outings.