EUROPEAN REVIEW - SGP Gorican
Robert Lambert leads the Great Britain contingent in the Grand Prix series after equalling his best-ever result in Gorican last weekend. Lambert finished runner-up in the season-opening GP of Croatia, to put 18 big points on the board immediately, and surely that elusive first victory isn't too far away.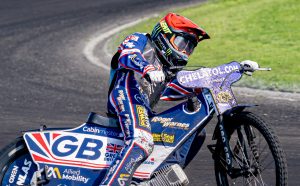 In fact, after 20 heats of a weather affected event, it was the perfect scenario for GB, with all three of their riders filling the top three places.
Lambert and Tai Woffinden both scored 11 points in the qualifiers and Dan Bewley was just behind on ten, as some of the established names struggled to make it through.
World No.2 and No.3 Leon Madsen and Maciej Janowski both finished well adrift of the top eight cut-off, and even defending champion Bartosz Zmarzlik found himself briefly under pressure due to a tapes exclusion.
But whilst Lambert sailed through the first semi-final behind a revitalised Jason Doyle, the meeting changed dramatically in the second semi as Zmarzlik took control from the inside whilst Fredrik Lindgren, who had only just scraped into the top eight, passed both Bewley and Woffinden in what was arguably the ride of the night to put the GB duo out.
That left Lambert as the sole GB man in the Final, where all the meaningful action happened on turns one and two when Doyle nearly made it around Zmarzlik only to pick up drive and spin into the fence, leaving the Pole clear to take victory whilst Lambert held off Lindgren for second place.
It completed a roller-coaster week for Zmarzlik, who had registered a most uncharacteristic seven points only in his first home appearance for Lublin in their 46-44 home defeat to Wroclaw.
Track conditions were very tough with gating of paramount importance, although Zmarzlik did produce a great third to first effort in Heat 13, but it was Woffinden and Artem Laguta who starred for the visitors with 10+2 each, with their 5-1 over Zmarzlik in Heat 14 proving crucial.
Bewley also played a key role in the early stages with two defeats of Zmarzlik, including a defensive ride to finish third in his first outing, and then a win next time out. He scored five from four rides.
Lublin recovered to win 48-41 the following evening in Gorzow, where Zmarzlik made a triumphant return to his old club with a 14+1 paid maximum, even if the home fans weren't too impressed by his strong passing move on Szymon Wozniak.
Wroclaw remain the only side to have a 100 per cent record in the PGE Ekstraliga, making it four wins out of four with a dramatic 46-44 home win over a battling Czestochowa side on Sunday.
The home side suffered a controversial exclusion for Piotr Pawlicki after a tangle with Kacper Woryna, whilst the visitors were superbly served by Maksym Drabik who had a point to prove on his old home track.
Drabik completed a 13+1 haul in the final race but the win was secured by Bewley (11) and Laguta settling in ahead of Jakub Miskowiak to seal victory, whilst Woffinden opened up with a race win but then suffered two last places to finish on 4+1.
Lambert had found the going tough in Krosno, where he scored just two points from three rides in a 50-40 defeat for Torun, whose scorechart was dominated by Emil Saydutdinov with an outstanding 16+1, and the former World No.3 added 16 at his old home base of Leszno the following evening as the weakened home side still won 49-41 – Lambert this time reaching double figures with 10+1 from six rides.
Krosno made it two home wins in four days by overcoming Grudziadz 49-41, a result which already puts the visitors in severe relegation danger, and the talking point was the withdrawal of Nicki Pedersen after two rides due to track conditions and the effect they were having on his injury from Peterborough at the start of the season.
In Division One, Zielona Gora top the standings with six points out of six thanks to a 50-40 win over Bydgoszcz, although the scores had been level with four races remaining.
Przemyslaw Pawlicki led the way with 13 points, whilst youngster Wiktor Przjemski notched 12+1 for the visitors.
Elsewhere Lodz raced at home for the first time and beat Landshut 50-40, led by Mateusz Tonder on 10+1, whilst the fixtures at Ostrow and Rybnik were postponed.
Three matches were completed in Division Two and all resulted in big home wins, with Rzeszow the highest scorers as they beat Daugavpils 60-27, Steve Worrall scoring five for the visitors.
Tarnow were 59-31 winners over Pila with Rene Bach scoring a 14+1 paid maximum and Dan Gilkes picking up four for the visitors, whilst Opole beat Rawicz 54-35 with Oskar Polis scoring a 15-point maximum for the home side and Drew Kemp scoring 4+1 for Rawicz.
Saturday's SEC qualifier saw frustration for the British duo, especially in the case of Adam Ellis who had scored seven points from his first three rides but then crashed out in his next outing, suffering a hand injury. Meanwhile Worrall won his first ride before also finishing on seven points, with the meeting being won by Antonio Lindback.