EUROPEAN REVIEW: SGP Gorzow
Dan Bewley and Robert Lambert continued to establish themselves as firm Grand Prix contenders in last Saturday's fifth round of the series in Gorzow.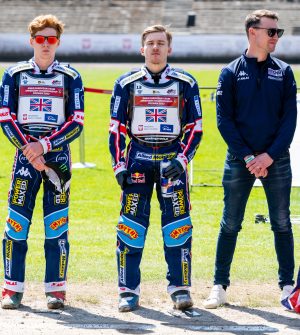 Image courtesy of Steve Hone Photography
Whilst the ultimate prize of a GP victory still eludes them, the British pair both made the semi-finals once again, and a podium finish cannot be too far away.
Bewley was in sensational form in the qualifiers, winning Heat 2 after a heavy downpour disrupted proceedings, and he ended the first stage of the meeting in second place on points, with only Martin Vaculik ahead on 13.
Lambert, meanwhile, enjoyed a solid evening's work as he finished on nine points with four second places and a third, and that was comfortably enough to see him through to the semi-finals.
But there was frustration for Tai Woffinden, who ran two last places in his first four outings and was passed by Bewley for the win in Heat 10.
Woffinden did take the flag in his final ride to finish on seven points, but it wasn't enough to go through, and he remains sixth overall but 28 points behind leader Bartosz Zmarzlik.
Lambert was involved in the first semi-final but missed out at the expense of Patryk Dudek and Martin Vaculik, giving him 11 GP points from the meeting, whilst Bewley was also third in his semi, behind Anders Thomsen and Zmarzlik, and he banked 12 overall.
Thomsen then led a Gorzow 1-2-3 in the Final, taking his first-ever GP victory ahead of Vaculik and Zmarzlik as Dudek missed out despite having first gate choice.
Zmarzlik now leads Leon Madsen by 18 points in the series, whilst Lambert is ninth, just three points behind Woffinden, with Bewley a further three points behind in 11th as the series breaks for mid-season ahead of the British GP on August 13.
Another important round of Ekstraliga matches saw Wroclaw take their expected win at Ostrow, defeating the bottom club 56-34 to move back into the play-off places.
Maciej Janowski was the individual star with 17 points from six rides, but Woffinden also performed strongly with 12+3, just a last place in his fifth outing blotting his perfect score, whilst Bewley scored 9+1 including two race wins.
Meanwhile Torun were also 56-34 winners over Grudziadz, who continue to be without Nicki Pedersen – and the win saw the home side vault up to third place as one of three sides on 12 points.
Lambert, like Woffinden, scored 12+3 from six rides, and in his case his maximum hopes went in his very last race – whilst Patryk Dudek did complete an 18-point maximum.
Elsewhere, Lublin marched on at the top with a 47-43 win at Leszno inspired by former Bulls rider Dominik Kubera who scored 12+3. Motor are still unbeaten this season and are now eight points clear at the top – and it was their first win at Leszno since way back in 1991.
Gorzow remain second despite losing 50-40 at Czestochowa, with the absence of Freddie Lindgren – taking a break due to Long Covid issues – cancelled out by the withdrawal of Thomsen with shoulder trouble after one ride.
In Division One, Bydgoszcz pulled clear at the top with a 49-41 win at Rybnik, who remarkably are now bottom of the table, whilst second-placed Zielona Gora slipped up with a 50-40 defeat at Gdansk for whom in-form Rasmus Jensen scored 17 from six rides.
Elsewhere, Landshut are third after defeating Gniezno 55-35, whilst Lodz won the mid-table clash with Krosno 50-40 with Marcin Nowak top-scoring on 13+1.
In Division Two, Adam Ellis was in the major points for Daugavpils as he scored 10+1 from five rides in their 47-43 win at Rzeszow, with the Latvian club third in the table with a match in hand over the top two.
Elsewhere Opole were narrow 46-43 winners over Poznan to move back to the top of the table over inactive Rawicz, whilst Tarnow collected a comfortable 52-38 victory at Pila and are now in fourth place.