EUROPEAN REVIEW: SGP Prague
Tai Woffinden has put his Grand Prix campaign firmly back on track after finishing second in Saturday's Czech Republic GP at Prague.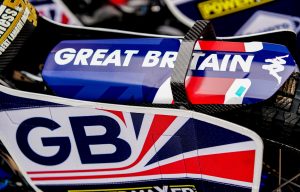 Image courtesy of Steve Hone Photography
The Marketa Stadium has frequently been a happy hunting ground for Woffinden, with a hat-trick wins in 2013-15, and he has continued to clock up Final appearances with regularity.
That was the case once again as after finishing third in his first ride Woffinden reeled off four successive wins to top the scoreboard in a meeting where gating and first-bend prowess was of paramount importance.
He came through the first semi-final safely, although second place in that race meant he lost top priority for gate choice as Maciej Janowski headed him from the inside, and they were joined in the Final by Martin Vaculik and Jason Doyle.
Woffinden was guaranteed a rostrum finish almost before the start as Janowski was excluded for touching the tapes, and it turned out to be Vaculik's night as he made the start in the re-run with Woffinden quickly establishing himself in second place ahead of Doyle.
The result means Woffinden is up to fifth place in the overall standings on 32 points, and he is only 12 off the top as the majority of the early front runners failed to score big in Prague.
Meanwhile Dan Bewley also reached the landmark of a semi-final appearance, despite an alarming incident in his fourth ride when his frame appeared to give way underneath him – thankfully when he was mid-bend rather than at top speed.
Bewley still scored eight points from his remaining rides, and was one of the most exciting riders to watch in conditions not conducive to passing, before he finished third in the first semi ahead of Leon Madsen.
GB's other representative Robert Lambert was unable to break his duck of never having reached a Prague semi as he paid the price for a last place in his first ride, although he scored six thereafter and was involved in arguably the best race when he made his way past Bartosz Zmarzlik and Max Fricke for second place in Heat 5.
Zmarzlik leads the series on 44 points with Janowski on 43 and Madsen on 40. Woffinden has 32, one behind Mikkel Michelsen, whilst Lambert is currently placed 11th on 22 and Bewley is one place behind in 20.
The SGP2 round, not featuring any British riders, was a long-running affair after rain during the day, with Lublin youngster Mateusz Cierniak eventually taking victory with a fine ride to pass Latvian Francis Gusts in the Final.
Round 7 of Polish Division One saw Zielona Gora maintain their position at the top of the table with a thumping 55-35 win at Rybnik, inspired by high scores from Rohan Tungate (13+3), Krzysztof Buczkowski (12) and Fricke (11+1).
Krosno remain second after edging out Landshut 47-43 having been taken to a last-heat decider in which Vaclav Milik and Mat Szczepaniak were both overtaken by the visitors' Kai Huckenbeck, but stayed ahead of Mads Hansen for a 3-3.
And Lodz beat bottom club Gdansk 51-38 to move level on points with Bydgoszcz, who did not race.
In Division Two, there were two big home wins as second placed Opole thrashed Pila 65-24 with former Ipswich rider Karol Baran scoring a 13+2 paid maximum, whilst Rawicz were 58-32 winners over Tarnow with UK-based Australian duo Sam Masters and Josh Pickering amongst the top scorers.