EUROPEAN REVIEW: SGP Teterow
Great Britain have two riders in the top six of the Grand Prix standings after the fourth round of the series in Teterow.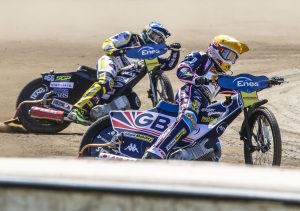 Image courtesy of Taylor Lanning Photography
The German GP threw up immensely challenging track conditions and was won by Patryk Dudek for his first triumph in nearly four years, whilst Bartosz Zmazrlik enhanced his position as leader of the standings with second place overall, his overall margin at the top now up to 11 points.
But it was the GB riders who made many of the stories, and possibly the biggest surrounded Dan Bewley who scored a brilliant 12 points from the qualifying races, second only to Dudek who ended on 13.
Bewley finished behind Zmarzlik in Heat 4 but then made light of the conditions to reel off three brilliant victories on the bounce before taking third from Maciej Janowski in Heat 20 when the Pole ran out of steam late in the race.
Unfortunately for Bewley, his great run ended in the second semi-final where, despite making a good start from gate three, he was out-manoeuvred on turn two and missed out to Freddie Lindgren and Zmarzlik, although he did finish ahead of Jack Holder.
Tai Woffinden, meanwhile, escaped unscathed from an extraordinary Heat 3 incident where both he and Martin Vaculik suffered almost identical, but unrelated falls, and both were excluded.
Woffinden recovered to post wins in three of his remaining four rides to comfortably reach the semis on ten points, but his journey would end there too as he finished third behind Dudek and Robert Lambert, and ahead of Leon Madsen.
So Lambert, after knocking on the door for some time, was able to translate his consistent form into a Final appearance for the first time, as once again he scored in every ride to finish on nine points, including a big win in Heat 15 to move him clear of the cut-off.
The next step for Lambert is to reach the podium, something which was just beyond him in Teterow as he missed out from the unfavoured gate two with Dudek making the start from the inside, whilst Zmarzlik and Lindgren had better lines on the first two turns to move past the British rider.
Even so, Lambert's consistency means he is up to sixth in the overall standings on 36 points, whilst Woffinden sits fifth on 43 – and to underline how close things are, Bewley is currently ranked 12th but is only four points behind Lambert.
There will be no GP Challenge appearance for Adam Ellis this season as he missed out on qualification from Abensberg on Monday, finishing down the order on three points from his five rides.
Current GP men Anders Thomsen and Max Fricke went through along with Kai Huckenbeck and Kim Nilsson, whilst Jack Holder, Szymon Wozniak, Andzejs Lebedevs and Rohan Tungate were successful in Debrecen. Bewley, Lambert and Chris Harris compete in events this weekend.
In the PGE Ekstraliga, the big story of the week was the horrific crash in the Grudzaidz/Leszno fixture which saw both Nicki Pedersen and Piotr Pawlicki finish in hospital and set for lengthy lay-offs.
The two tangled after Pawlicki attempted to dive through on the inside, with Pedersen – just back from injury – suffering femur and pelvic injuries, whilst Pawlicki broke both shoulder blades.
When the action resumed, Grudziadz pulled off a notable 50-40 win over the second-placed club to significantly boost their own chances of making the top six, although Pedersen's absence will certainly hamper those hopes.
But last season's relegation fighters are well clear of Ostrow, who suffered their seventh successive defeat when they went down 55-35 at Gorzow, who are third in the table.
At the other end of the scale, Lublin have now gone through the first half of the season with a 100 per cent record and are four points clear at the top after beating Wroclaw 50-40 on Sunday.
Mikkel Michelsen recovered from a nightmare German GP to score an 18-point maximum, and had the beating of all of the Wroclaw big guns including Janowski, who scored 17+1 from seven rides.
The British riders had solid meetings with Woffinden scoring nine from six, including a win in Heat 9 after a battle with Dominik Kubera, whilst Dan Bewley completed a 4-2 in that race by overcoming Jarek Hampel. Bewley scored in all six of his outings to finish on 8+1.
Elsewhere, Lambert's excellent weekend continued as he starred for Torun in their exciting 48-42 home win over Czestochowa, combining with Pawel Przedpelski for a last-heat 5-1 over Leon Madsen and Kacper Woryna.
Lambert scored a superb 15 from six rides for the hosts, including four race wins, and received sufficient support from Przedpelski and Patryk Dudek to secure a home win.
In Division One Zielona Gora strengthened their position with a 56-34 win over Rybnik in an entertaining meeting with Max Fricke scoring a paid maximum and sealing it with a brilliant ride to pass Krystian Pieszczek in Heat 15.
With the bonus point added, ZG are three points clear of Bydgoszcz, who were convincing 54-36 winners at Gniezno with a paid maximum from Kenneth Bjerre, and then won the return fixture 49-41 despite a 15-point haul from the revitalised Antonio Lindback.
Elsewhere Gdansk beat Lodz 51-39 to move to within one point of Rybnik and Gniezno at the bottom.
In Division Two, Daugavpils collected a useful 48-42 home win over Poznan to move to within one point of them in the table, with Ellis scoring four points from three rides.
Opole are two points clear at the top after winning 53-37 at bottom club Pila, whilst Rawicz remain second after a thumping 55-35 win at Tarnow with Josh Pickering scoring a five-ride paid maximum.