EUROPEAN REVIEW: SGP Torun / Bahaus-Ligan
Great Britain duo Robert Lambert and Dan Bewley were split by just one point at the end of the Grand Prix series, with both securing impressive top six finishes.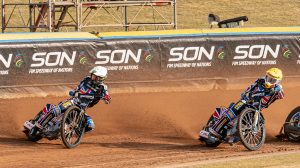 Image courtesy of Steve Hone Photography
Neither rider was able to make the Final in the last round at Torun, but in a tight fight for places below the top two – Bartosz Zmarzlik and Leon Madsen - both confirmed their automatic spots in the 2023 series.
Lambert finished fifth overall on 103 points, the same as Fredrik Lindgren and three behind eventual third-placed finisher Maciej Janowski. He lost out to the Swede on countback for fourth place, as although both had one runners-up finish in GPs this year (Lambert in Vojens and Lindgren in Malilla), Lindgren had two fourths (Warsaw and Teterow) compared to Lambert's one (Wroclaw).
It was equally tight for sixth place as Bewley and Patryk Dudek both finished on 102, but this time it was the GB rider who prevailed thanks to his two wins (Cardiff and Wroclaw) compared to the Pole's one (Teterow).
The GP itself at Torun was won by Martin Vaculik for his second victory of the season, ahead of Zmarzlik, Madsen and Janowski in the Final.
Bewley reached the semi-finals on seven points but had the unfavoured outside gate and missed out in a tremendous scrap with Janowski and Mikkel Michelsen, in a race which ultimately clinched third overall for Janowski – thanks largely to him reaching three Finals in the last four rounds.
That took Bewley to the end of his debut GP campaign with an impressive record of two wins and four other semi-final appearances.
Lambert also scored seven but missed out on countback, hampered by an exclusion for touching the tapes in his third ride. But it was also a progressive campaign overall as he also made six out of ten semi-finals, reaching the podium on two occasions.
Tai Woffinden endured a quiet night in Torun, and ended with five GP points from the meeting leaving him eighth overall, having reached two Finals (second in Prague and fourth in Malilla) and four other semi-finals.
But Dudek, Woffinden, Vaculik, Jason Doyle, Michelsen and Anders Thomsen have all been handed returns to the series next year along with this season's top six. Jack Holder and Max Fricke are also back via the GP Challenge – Fricke finished fourth in that meeting and makes it due to Bewley's top six place overall – so the only change to the full-time GP line-up in 2023 is Challenge winner Kim Nilsson replacing Pawel Przedpelski.
Lambert and Bewley are also Bahaus-Ligan title winners in Sweden after Smederna secured an impressive 48-42 win at Lejonen on Tuesday to wrap up an 11-point aggregate victory.
Leading by only five points from the home leg, they were expected to face a tough night, but in-form Lambert – who had scored a maximum at Belle Vue the previous evening – reeled off wins in his first four rides, with the home side hampered by another off-night for Dudek.
The title was secured by Bewley's second place ahead of Dominik Kubera in Heat 12, and Bewley finished the meeting with 11+1 from six rides, with Lambert ending the night on 12.
Dominik Kubera top-scored for the Gislaved side with 14 and Bartosz Zmarzlik collected 12+1 but just as in the Polish Ekstraliga Grand Final, the World Champion ended up on the losing side overall.
Meanwhile the FIM European Under-23 Team Championship scheduled for Tarnow last Sunday was postponed over 24 hours before the event due to poor weather.
The meeting will now take place on Sunday October 9, with GB represented by Bewley, Tom Brennan, Leon Flint, Drew Kemp and Jason Edwards as they take on Sweden, Denmark and host nation Poland.