EUROPEAN REVIEW: SGP Wroclaw
Great Britain enjoyed their best Grand Prix result in over 20 years when Dan Bewley won in Wroclaw on Saturday and Robert Lambert finished third.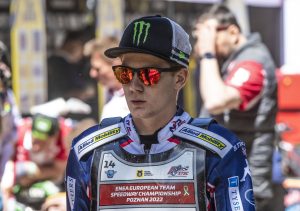 Image courtesy of Taylor Lanning Photography
It was back at Coventry in 2000 when Martin Dugard triumphed as a Wild Card and Mark Loram added third place that two British riders were last on the podium together.
Bewley became the first rider to win two GPs this year in what is turning out to be a memorable debut campaign, and moreover he made it back-to-back successes with victory on his home Polish circuit.
His momentum is spectacular and he's now up to a clear third in the standings, just eight points behind Leon Madsen and nine ahead of Patryk Dudek.
Yet for much of the meeting it looked like another Wroclaw star, Tai Woffinden, could be the British rider most likely to be tasting the champagne as he recovered from a third place in his opening outing to score ten points from his next four rides, and he was placed second overall going into the semi-finals.
That was one point behind Madsen, whilst four riders in total finished on 11, including Lambert who was consistent throughout the meeting – whereas Bewley was facing a fight to make the top eight after a scorechart which read 3-0-1-1 after four rides.
But Bewley handled the pressure of winning Heat 20 from the inside, defeating Jason Doyle, Pawel Przedpelski and Martin Vaculik, and his two race wins left him ahead of Fredrik Lindgren on countback.
Whilst Maciej Janowski and Madsen progressed from the first semi, all three GB riders met in the second semi along with World Championship leader Bartosz Zmarzlik – and it was the young guns who went through as Bewley and Lambert took first and second whilst Zmarzlik snatched third from Woffinden off the last bend.
Bewley had been off gate three in that race but he was back on the inside in the Final and made it work to get the better of Madsen, with Lambert overhauling Janowski to take his first GP rostrum position.
The result means Bewley now has a 16-point cushion on the riders outside the top six, which is good news for Max Fricke who stands to qualify for 2023 via the GP Challenge if Bewley does not need that spot.
Lambert is in seventh place on 68 points, just two behind Lindgren, and Woffinden is eight on 65, with three rounds of the series remaining.
Elsewhere, Great Britain finished sixth in the European Pairs Final at Slangerup, with the meeting going ahead after an extensive rain delay.
Chris Harris scored 7+2 and Tom Brennan 7 for GB, with Leon Flint adding one from two rides. The meeting was won by hosts Denmark with 26 points, represented by Rasmus Jensen and Michael Jepsen Jensen, with the Czech Republic second and Poland third.
Meanwhile Bewley and Woffinden's Polish Ekstraliga season has come to an end with Wroclaw eliminated along with Leszno after the quarter-finals of the play-offs.
With Lublin and Czestochowa completing home and away wins in their second legs, Torun progressed as 'lucky losers' despite a 51-39 defeat at Gorzow, as they had won the home leg 46-44 and qualification was determined on the basis of a mini-league rather than the best aggregate results of the losing teams.
Lambert recovered from a last place in his first ride to top-score for Torun with 13 points, although he was unable to stop an inspired Zmarzlik who is determined to exit Gorzow on a high after an 18-point maximum.
Wroclaw needed a win at Czestochowa to have a chance of progressing, but it was never really on as the home side always kept a reasonable lead and ended up with a 52-38 victory with in-form Kacper Woryna scoring a paid maximum and being confirmed in the side again for next year.
There were three race wins for Bewley as he top-scored with 13 from seven rides, and it could have been more but for a brutal ride by Jakub Miskowiak to defeat him in Heat 12.
Woffinden, meanwhile, scored 5+3 from seven after a somewhat fraught meeting including a crash in Heat 5 which left both himself and Janowski on the ground from which Woffinden was excluded, then another fall when at the back in Heat 11, and a retirement in the last race.
Lublin's 51-39 win over Leszno was in fact much closer than the scoreline suggested with the visitors 25-23 up after Heat 8 and just two points down with four races remaining, before two Lublin 5-1s in the next three races resolved matters.
The semi-final line-up is confirmed with Gorzow facing Czestochowa, and Torun taking on Lublin, with the first legs on Friday and the return fixtures on Sunday.
In Division One, the first leg of the semi-final between Zielona Gora and Bydgoszcz ended 55-35 to the home side, but the meeting was marred by a serious accident between Fricke and Adrian Miedzinski in Heat 8.
The Bydgoszcz rider lifted on the exit of turn four when trying to pass Fricke, bringing both riders down, and whilst Fricke remarkably walked away and was able to continue, Miedzinski was taken to hospital where he remains in an induced coma as surgeons monitor head injuries.
Elsewhere, Lodz raced to a useful 49-41 win over Krosno in their first leg with Luke Becker scoring a five-ride paid maximum for the home side.
In Division Two, the second semi-final saw Poznan defeat Rawicz 46-44 for a ten-point aggregate victory, to set up a Final clash with Opole.
The visitors did manage to halve their aggregate arrears as they led 20-16 in the early stages, and Brennan impressed again with 8+2 from five rides, but Poznan pulled clear for their aggregate win.