EUROPEAN REVIEW: Speedway of Nations / British Under-19 Championship
Great Britain's opponents in the FIM Monster Energy Speedway of Nations have been confirmed.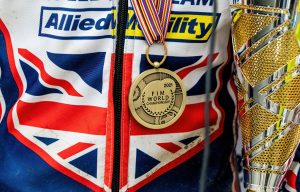 Image courtesy of Steve Hone
Poland, Sweden and Denmark made it through the first semi-final in Lavtia last weekend, with Australia, Latvia and France completing the six qualifiers on day two at Daugavpils.
The Poles were, as expected, winners of the first semi led by World Champion Bartosz Zmarzlik, who piled up 21 points from his seven rides. Dominik Kubera gained further experience of World Championship racing as he collected 13, whilst Under-21 rider Jakub Miskowiak scored a paid win in his only outing.
It remains to be seen whether Poland travel to Manchester with Kubera partnering Zmarzlik, or they revert to one of their more experienced riders for the Final.
Sweden finished three points behind Poland with Fredrik Lindgren scoring 23 points from a possible 24, backed up by Pontus Aspgren, with a 5-4 over Denmark in Heat 21 behind race winner Mikkel Michelsen securing their progression.
The Danes scored 32 which put Michelsen and Leon Madsen into the race-off against fourth-placed USA, which they duly came through to end the hopes of Broc Nicol and Luke Becker, who was another of the individual stars on 21 points.
Saturday's second semi saw Australia as hot favourites, but although they did finish on top of the standings the duo of Jason Doyle and Max Fricke were only one point clear of home duo Andzejs Lebedevs and Olegs Mihailovs, who scored 18 and 14 points respectively.
Doyle was top scorer in the meeting with 23, but just behind him was an impressive Kai Huckenbeck for Germany on 22.
But after finishing three points behind France to reach the race-off, it was David Bellego and Dimitri Berge who took the final ticket to Manchester, packing in behind Huckenbeck and seeing off youngster Norick Blodorn.
The second semi-final also saw the elimination of defending champions MFR, albeit without their established top two of Emil Sayfutdinov and Artem Laguta competing. Sergey Logachev and Vladimir Borodulin finished two points behind Germany.
The Final takes place at Belle Vue over two days on October 16/17, with GB bosses Simon Stead and Olly Allen now having time to consider their strategy with the draw having taken place, and several of their likely squad members have important meetings over the coming weeks.
Those include Tai Woffinden and Dan Bewley, whose Ekstraliga Grand Final for Wroclaw has been delayed by rain.
The first leg was due to take place at Lublin last Sunday but it was postponed more than 24 hours prior to the event and re-arranged for this Thursday, with the second leg back at Wroclaw this Sunday as scheduled.
The third-place play-off did go ahead and Gorzow are in prime position to take bronze after a 49-41 win at Leszno in the first leg.
GP star Anders Thomsen led the way with 12+1 whilst Bartosz Zmarzlik also scored 12, and Rafal Karczmarz was a surprise package with nine points in the middle-order.
Jason Doyle scored 12+1 and Janusz Kolodziej added 11+1 for the hosts, but Sayfutdinov's final home appearance was a disaster as he only scored two points.
Meanwhile Drew Kemp has made history by becoming the first rider to complete a hat-trick of British Under-19 titles.
Kemp, who was a member of GB's bronze medal winning side in the recent FIM World U21 Team Final, scored a 15-point maximum at Scunthorpe last Friday, with an overtaking move on Dan Thompson in his first ride proving crucial.
Thompson was also very impressive as he won his remaining outings to finish on 14, whilst Jason Edwards defeated Leon Flint in a run-off for third place after both scored 12.