EUROPEAN REVIEW - Swedish Elitserien
Great Britain's Tai Woffinden has added victory in the Swedish Elitserien to his success in the Polish Ekstraliga.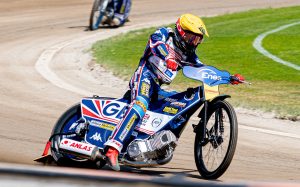 Image courtesy of Steve Hone
Woffinden joined Dackarna to aid their title push in late summer, and the result was gold for the Malilla club after the two-legged Grand Final against Smederna.
He teamed up again with Wroclaw colleague Maciej Janowski in a strong line-up which included a third Grand Prix rider in Jason Doyle.
And although Woffinden was limited to five points in the home leg, Dackarna still built up a 53-37 lead to take to Eskilstuna, with Doyle scoring 13+1, Janowski 11+2 and Jacob Thorssell won four races after finishing last in his first ride.
That made Dackarna overwhelming favourites to take the title in the second leg, and they led for the majority of the meeting before sealing their overall victory when Woffinden overtook Kacper Woryna to win Heat 11.
Dackarna went on to take a 46-44 win on the night with Woffinden top-scoring on 12+1, whilst Doyle added 11. Woryna top-scored for Smederna in both meetings.
Meanwhile Dan Bewley is another GB rider who could complete a league title double, as he can follow up Wroclaw's victory by leading Belle Vue to their first UK crown in nearly 30 years.
Bewley scored 15 points in the second leg of the Aces' play-off semi-final against Sheffield, recovering from a last place in Heat 1 to reel off four successive victories.
A 16-point aggregate victory has set up a Grand Final against Peterborough, who have confounded pre-season predictions over the average age of their side by topping the table and then making it past Wolverhampton in the semi-finals.
Belle Vue staged the first leg of the Final on Monday, slightly edging the contest 46-44 and now travel to the East of England Arena – where they have won twice already this season – on Thursday.
Bewley has been further boosted by the strong possibility of Grand Prix racing next season, as he has been handed the second reserve position for the 2022 campaign.
Australian racer Jack Holder is the first stand-by rider with Bewley next in line should any of the regular GP field, which includes Woffinden and Robert Lambert, be forced to miss a meeting.