EUROPEAN ROUNDUP
Tai Woffinden emerged unscathed from an awkward crash just a week before the start of the Grand Prix series as Wroclaw suffered a surprise home defeat to Leszno.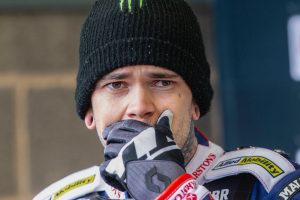 Image courtesy of Taylor Lanning Photography
The former Ekstraliga champions defeated the current title holders 46-44 on Friday, with Janusz Kolodziej their hero as he got the better of Woffinden and Dan Bewley in a last-heat decider.
But the major scare had taken place in Heat 9 when Woffinden came to grief on the exit of turn two as he lifted when just behind Doyle and put the bike down to avoid T-boning the Australian – but he still suffered a heavy landing and was fortunate to be avoided by Bewley.
Fortunately Woffinden was uninjured and was able to continue in the meeting, where he scored ten points, whilst Bewley top scored on 10+2 including two race wins.
But with Maciej Janowski on an uncharacteristic 7+1, Leszno edged the meeting with Kolodziej (13+1) and Doyle (12+2) both delivering impressive performances.
The result moves Leszno up to second place in the early table, whilst Lublin are on top after a comfortable 57-33 win over previously unbeaten Grudziadz.
Maksym Drabik kept up his excellent return to racing with 16+1 from six rides, but the match was marred by a spectacular Heat 14 pile-up which saw all four riders come to grief, with Dominik Kubera coming off worst – although early reports of a broken collarbone proved unfounded.
Robert Lambert was involved in a thrilling contest for Torun at Gorzow but his side came up just the wrong side of the result after losing 47-43 in a last-heat decider.
Lambert held off the strong challenge of Martin Vaculik to win Heat 12 which edged Torun 37-35 up, but the scores were level heading into the decider.
Bartosz Zmarzlik completed a 15-point maximum as he led from the start, but Lambert and Pawel Przedpelski were undone by a stunning ride by Szymon Wozniak to go from fourth to second and seal the match for the hosts.
Lambert top-scored for Torun with 11+1 from six rides, with his side sitting seventh in the league table, one of three clubs on two points.
They are joined by Wroclaw and Czestochowa, who gained their first win of the season with a rain-curtailed 30-24 victory at Ostrow, with a halt being called after nine races.
Lodz moved briefly top of Division One with a 51-39 win over Rybnik, who have now signed Nicolai Klindt on loan from Ostrow. However, top spot changed again on Saturday when Bydgoszcz won 51-39 at Lodz, inspired by a 15-point maximum for Kenneth Bjerre.
Zielona Gora collected their first win of the campaign by triumphing 48-42 in Landshut, and Gniezno were big winners on the road as they notched a 52-37 victory at Gdansk with Oskar Fajfer scoring a paid maximum.
Monday's re-arranged fixture between Krosno and Zielona Gora was postponed due to rain.
In Division Two, Adam Ellis helped Daugavpils to a 45-45 draw in Pila with the British Champion scoring 8+1 from five rides.
Ellis teamed up with Jevgenis Kostigovs for a 5-1 in Heat 14 to level the scores and complete a comeback from eight points down, before Nick Morris ensured the shared outcome by winning Heat 15 for the visitors.
Elsewhere, Poznan are the league leaders after winning 48-42 at Rzeszow, whilst Opole thrashed Rawicz 58-32 in their first meeting of the season.