EUROPEAN SEASON REVIEW
Great Britain have ended a busy and successful season with three riders inside the World's top eight.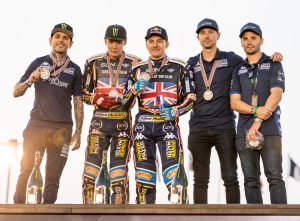 Image courtesy of Steve Hone Photography
Robert Lambert and Dan Bewley both continued their rapid progress towards the elite level of the sport, and Tai Woffinden also remains a major player on the big stage – with all three set to return to the Grand Prix series next year.
Lambert secured the World No.5 position with 103 points from the ten rounds, finishing just three points adrift of third-placed Maciej Janowski and was level with Fredrik Lindgren and placed behind the Swede on countback.
There were six semi-final appearances for Lambert, three of which were converted into Finals as he reached the rostrum for the first time in Round 7 at Wroclaw before going one better with second place next time out in Vojens.
Bewley, meanwhile, finished sixth on 102 points and his season was one of dramatic highs, including his back-to-back victories at Cardiff and Wroclaw.
That also completed a run of five successive semi-finals, and although he was unable to add any further rostrum finishes in the final three rounds, the British Champion finished in the top six on countback from Patryk Dudek – and his place in the series was already secure courtesy of his runners-up finish in the GP Challenge at Glasgow.
Woffinden received a nominated place for 2023 after finishing on 93 points, and he also reached six semi-finals but was only able to covert those into two Finals.
His best result of the season was a second place in Prague, often a happy hunting ground, whilst he finished just off the rostrum with fourth place in Malilla.
It was Bewley and Lambert who took GB to runners-up spot in the FIM Speedway of Nations at Vojens, finishing agonisingly short of repeating their 2021 triumph as Australia stuck gold on this occasion.
A close-fought semi-final had seen GB qualify in third place, but a training injury ruled Woffinden out of the Final.
GB outscored Australia 32-30 in the regular schedule, earning a direct place in the Final, but Australian duo Jack Holder and Max Fricke bolted clear from the start to win the tournament for their nation, leaving GB with silver on this occasion.
There was no permanent British representation in the SGP2 series but Tom Brennan eventually participated in two rounds due to Wild Card and substitute appearances.
Brennan was classified fifth in the event at Cardiff which was abandoned after Heat 20 due to track conditions, winning his last two rides which would have left him in good shape had the semi-finals taken place.
Leon Flint finished a creditable seventh in that meeting, and he also would have contested the semi-finals, whilst Jason Edwards and Drew Kemp scored five and four points respectively.
Brennan also contested Round 3 in Torun, scoring a strong ten points from his qualifying rides before missing out in the first semi-final.
And he was instrumental in GB's bronze medal secured from the SON2 event at Vojens, which was won by Poland ahead of the Czech Republic after a dramatic Final with the underdogs coming close to taking victory.
Brennan piled up 20 points from a possible 24, winning three of his six rides, whilst colleague Kemp added eight. However, their hopes of reaching the Final were dashed by the Czechs in the semi-final as Brennan lost out to Jan Kvech and Kemp was held at bay by Petr Chlupac.
The SGP3 competition, for youngsters on 250cc machinery, took place with a one-off Final at Wroclaw, with Luke Harrison scoring six points and Ace Pijper on five.
Bewley once again contested the Speedway Euro Championship but his hopes were badly hit by missing the opening round at Rybnik after suffering an horrific crash at Wroclaw the previous evening.
That left him short of the top five overall despite scoring a solid 30 points from the remaining rounds at Gustrow, Lodz and Pardubice, and he was left in seventh place, three points behind Dominik Kubera who also achieved his total from three rounds.
Bewley did reach the Final in Gustrow, where he finished third, and he was joined in the series by Adam Ellis who worked his way through the qualifying rounds although his first year as a full SEC rider turned out to be a tough one.
Ellis scored 11 points from the four rounds, and the highlight was a race win in the final event at Pardubice where he finished clear of Oliver Berntzon, defending champion Mikkel Michelsen and Dimitri Berge.
There were several other events away from the SGP/SON/SEC stages, with GB securing bronze medals in the European Team Championship in tough track conditions at Poznan.
Bewley (11) and Lambert (10) headed the scoring whilst Chris Harris added four and Ellis two as they finished on 27 points, just one adrift of second placed Denmark whilst hosts Poland dominated the event on 47.
One week later on May 21, Bewley scored a faultless 15-pont maximum to lead GB into the FIME European Under-23 Final, heading up a strong overall team performance at Pardubice.
Brennan added 13 points with Jordan Palin on 10 and Kemp on eight as GB finished on 46 points, four clear of the host nation in one of the most impressive results of the season.
The Final took place in Tarnow in October, delayed by a week due to bad weather, and it was bronze for GB once more, with Bewley top-scoring again on 13 points including wins in his last three rides.
With Palin by this stage ruled out injured, Leon Flint scored four points and Brennan and Kemp added three with Jason Edwards a non-riding reserve. GB totalled 23 points, finishing behind Poland (46) and Denmark (38) but well clear of Sweden on 13.
The European Pairs Championship saw GB take semi-final victory at Macon on July 23, edging out Sweden by one point with Norway in third place.
Ellis raced to a 12-point maximum and with support from Brennan on five and Harris on 4+2 (conventional 3-2-1-0 scoring) GB were comfortable qualifiers for the Final.
That meeting took place at Slangerup on August 27 – but this proved to be a tough day with Ellis on the sidelines following the British Grand Prix.
Harris and Brennan both scored seven points with Flint coming in as reserve and adding one, meaning GB finished in sixth place on 15 points, six adrift of the podium. Hosts Denmark took the overall honours.
And the latest round of the GB Global Challenge took place at Glasgow on July 9, with the Rest of the World winning an entertaining encounter 48-42.
Lambert led the way for the hosts with an impressive 16 from six rides, including some spectacular battles with Jason Doyle, and there was also a strong return to international competition for Richie Worrall who scored ten.