FIM SPEEDWAY WORLD CUP SQUADS ANNOUNCED
Words courtesy of FIMSpeedway.com
The squad lists for the first Monster Energy FIM Speedway World Cup since 2017 have been revealed as the sport's top nine nations prepare to battle it out in Wroclaw from July 25-29.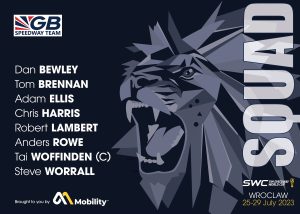 The sport's original team competition, relaunched as part of global promoter Warner Bros. Discovery Sports' new era for FIM Speedway, sees reigning champions Poland defend the iconic Ove Fundin Trophy they clinched during the last Monster Energy FIM SWC Final in Leszno, Poland in 2017.
They are seeded straight through to the Final on Saturday, July 29 as host nation, with eight other countries competing in two Semi-Finals for the right to join them.
The 2021 FIM Speedway of Nations world champions Great Britain take on three-time FIM SWC winners Sweden, as well as Czech Republic and Germany in Semi-Final 1 on Tuesday, July 25.
Last year's FIM Speedway of Nations world champions Australia then face off with four-time FIM SWC gold medallists Denmark, Finland and tournament debutants France in Semi-Final 2 on Wednesday, July 26.
The winner of each Semi-Final joins Poland in the Final, with the second and third-placed nations advancing to the Race Off on Friday, July 28, where the winner earns the fourth and last spot in the Final.
Each team manager has selected a squad of up to 10 riders, which will be reduced to a starting line-up of four, plus one reserve at No.5. But the remaining riders on the list can be drafted in if their country advances to the Race Off and Final and a team manager opts to shuffle their pack.
Poland's squad for their Monster Energy FIM SWC title defence is spearheaded by captain and triple world champion Bartosz Zmarzlik, with his Speedway GP rivals Maciej Janowski and Patryk Dudek also on the list.
Former Speedway GP stars Janusz Kolodziej and brothers Przemyslaw and Piotr Pawlicki are selected, along with double World Under-21 champion Maksym Drabik, former Polish champion Szymon Wozniak, FIM SGP2 champion Mateusz Cierniak and former Speedway GP finalist Dominik Kubera.
Australian team manager Mark Lemon has two former Speedway GP world champions in his squad, with captain Jason Doyle and Chris Holder leading a squad bidding to complete a unique FIM SON and Monster Energy FIM SWC double, along with Speedway GP title contender Jack Holder and triple Australian champion Max Fricke.
The 2020 World Under-21 champion Jaimon Lidsey is selected, along with former Aussie title winners Brady Kurtz, Rohan Tungate and Sam Masters. Australian Under-21 champion Keynan Rew and Ryan Douglas complete the list.
Great Britain bosses Simon Stead and Oliver Allen name an eight-rider squad, led by triple world champion Tai Woffinden and his Speedway GP rivals Robert Lambert and Dan Bewley.
Former Speedway GP star Chris Harris, 2021 British champion Adam Ellis, former British Under-21 champion Tom Brennan, Anders Rowe and Steve Worrall complete the Lions line-up.
Danish team manager Nicki Pedersen has selected himself as part of his 10-rider squad for his first Monster Energy FIM SWC as national boss, with Speedway GP trio Leon Madsen, Anders Thomsen and Mikkel Michelsen all joining him.
Former World Under-21 champion Michael Jepsen Jensen and 2022 Danish champion Rasmus Jensen also make the cut along with Mads Hansen, Frederik Jakobsen, Nicolai Klindt and Andreas Lyager Hansen.
Sweden chief Morgan Andersson selects a squad led by captain and world No.4 Fredrik Lindgren. He's joined by 2022 FIM GP Challenge winner Kim Nilsson, former Speedway GP stars Antonio Lindback and Oliver Berntzon and two-time Swedish champion Jacob Thorssell.
FIM SGP2 rider Philip Hellstrom-Bangs, Filip Hjelmland, Victor Palovaara, Daniel Henderson and Anton Karlsson complete the Swedish team.
The Czech squad is spearheaded by former Speedway GP finalist Vaclav Milik, along with 2022 FIM SGP2 silver medallist Jan Kvech, Eduard Krcmar and 2023 FIM SGP2 rider Petr Chlupac. Veteran Josef Franc, Daniel Klima, Hynek Stichauer, Matous Kamenik, Jaroslav Vanicek and Jan Jenicek complete the list.
Germany names a squad fronted by skipper Kai Huckenbeck and 2014 FIM New Zealand Speedway GP winner Martin Smolinski. They team up with FIM SGP2 rider Norick Blodorn and former FIM World Long Track champion Erik Riss, plus Kevin Wolbert, Michael Hartel, Marius Hillebrand, Sandro Wassermann, Rene Deddens and Erik Bachhuber.
Finland, last year's FIM SON surprise finalists, are led by their 2022 Vojens heroes Timo Lahti, Timi Salonen and Jesse Mustonen. They are joined by veteran Tero Aarnio, Antti Vuolas, Nicce Sayrio, Roni Niemela, Joni Laukkanen, Henri Ahlbom and Topi Mustonen.
In their first-ever FIM SWC tournament, French top guns David Bellego and Dimitri Berge lead their country into an historic week of racing.
Former FIM World Long Track champion Matthieu Tresarrieu and his nephew Mathias Tresarrieu join them along with Steven Goret, Jordan Dubernard and Tino Bouin. Tickets for the Monster Energy FIM SWC are still available online. Secure your spot at the legendary Olympic Stadium HERE.
2023 MONSTER ENERGY FIM SPEEDWAY WORLD CUP SQUADS
SEMI-FINAL 1: TUESDAY, JULY 25
GREAT BRITAIN: Tai Woffinden (captain), Robert Lambert, Dan Bewley, Tom Brennan, Adam Ellis, Chris Harris, Anders Rowe, Steve Worrall. TEAM MANAGERS: Oliver Allen and Simon Stead.
SWEDEN: Fredrik Lindgren (captain), Jacob Thorssell, Filip Hjelmland, Oliver Berntzon, Kim Nilsson, Antonio Lindback, Philip Hellstrom-Bangs, Victor Palovaara, Daniel Henderson, Anton Karlsson. TEAM MANAGER: Morgan Andersson.
CZECH REPUBLIC: Vaclav Milik (captain), Jan Kvech, Eduard Krcmar, Petr Chlupac, Daniel Klima, Hynek Stichauer, Josef Franc, Matous Kamenik, Jaroslav Vanicek, Jan Jenicek. TEAM MANAGER: Zdenek Schneiderwind.
GERMANY: Martin Smolinski, Kevin Wolbert, Kai Huckenbeck (captain), Norick Blodorn, Michael Hartel, Erik Riss, Marius Hillebrand, Sandro Wassermann, Rene Deddens, Erik Bachhuber. TEAM MANAGERS: Sascha Dorner and Mathias Bartz.
SEMI-FINAL 2: WEDNESDAY, JULY 26
AUSTRALIA: Ryan Douglas, Jason Doyle (captain), Max Fricke, Chris Holder, Jack Holder, Brady Kurtz, Jaimon Lidsey, Sam Masters, Keynan Rew and Rohan Tungate. TEAM MANAGER: Mark Lemon.
DENMARK: Leon Madsen (captain), Mikkel Michelsen, Anders Thomsen, Nicki Pedersen, Rasmus Jensen, Michael Jepsen Jensen, Mads Hansen, Frederik Jakobsen, Nicolai Klindt, Andreas Lyager Hansen. TEAM MANAGER: Nicki Pedersen.
FINLAND: Timo Lahti (captain), Jesse Mustonen, Antti Vuolas, Timi Salonen, Nicce Sayrio, Tero Aarnio, Ronni Niemela, Joni Laukkanen, Henri Ahlbom, Topi Mustonen. TEAM MANAGER: Aki-Pekka Mustonen.
FRANCE: David Bellego (captain), Dimitri Berge, Mathieu Tresarrieu, Steven Goret, Mathias Tresarrieu, Jordan Dubernard, Tino Bouin. TEAM MANAGER: Laurent Sambarrey.
RACE OFF: FRIDAY, JULY 28
SECOND PLACE IN SEMI-FINAL 1
THIRD PLACE IN SEMI-FINAL 1
SECOND PLACE IN SEMI-FINAL 2
THIRD PLACE IN SEMI-FINAL 2
FINAL: SATURDAY, JULY 29
POLAND: Mateusz Cierniak, Maksym Drabik, Patryk Dudek, Maciej Janowski, Janusz Kolodziej, Dominik Kubera, Piotr Pawlicki, Przemyslaw Pawlicki, Szymon Wozniak, Bartosz Zmarzlik (captain). TEAM MANAGER: Rafal Dobrucki.
WINNER OF SEMI-FINAL 1
WINNER OF SEMI-FINAL 2
WINNER OF RACE OFF