First Performance Camp a great success
Great Britain Speedway Team hosted its first Performance Training Camp of 2019 last weekend, with 12 riders joining GB staff at Loughborough University for what was the first camp of several this year.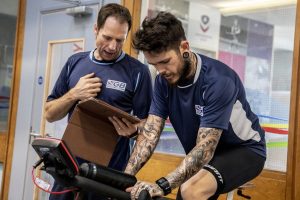 The two-day camp saw the riders join Great Britain's Performance Specialist Chris Neville, Fitness Specialist Paul Suggitt and Physiotherapist Steve Williams, along with Nutrition experts Andy Kasper and Sam Burrows at the home of British sport, where they rubbed shoulders with some of the country's elite athletes.
The 12 riders, Tai Woffinden, Craig Cook, Steve Worrall, Richie Worrall, Kyle Howarth, Lewis Kerr, Danny King, Josh Bates, Dan Bewley, Drew Kemp, Jack Thomas and Nathan Greaves, arrived at the Elite Athlete Hotel on Saturday morning where they were presented with full training kit before undergoing a multitude of physical tests.
After lunch, the riders were then put through their paces in the gym with several fitness tests and cardiovascular exercises, as well as some core strength and balance work.
After a cool-down swim and team meeting, the group had an educational session with experts from Nutrition X, Great Britain's official nutrition partner, and on Sunday the riders underwent further physical tests and exercises.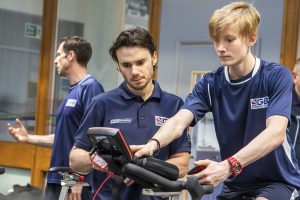 It was a hugely beneficial camp, and Chris Neville was delighted with the results.
He said: "It was great to get the boys together at the start of the season and they all put everything into the camp. We wanted to do some tests with them at the beginning of the year and then it's a lot easier for us to tailor their programme's individually.
"We're planning to have between 6-8 camps this year where we'll be able to track everyone's progress and make sure every rider is maximising their potential to its fullest."
Team manager Alun Rossiter was also pleased with the weekend, saying: "It's brilliant that we can come here and do these camps, the boys all took it very seriously and worked hard and we can see where everyone is at with their fitness levels.
"We're amongst some of the best athletes in the country here, so it's good that the boys can come and mix with elite athletes from all over and know that we are really moving everything on now.
"It's not long until our first Speedway of Nations meeting and we want to make sure we hit the ground running and get the result we need, so it's been really good to get all the lads together ahead of what's going to be a busy season."
Great Britain Speedway Team's Managing Director, Rob Painter commented "It was an excellent first camp of 2019 that enabled our performance staff to not only monitor the levels of our squad members, but also to spend valuable time with the riders that are returning from injury. Another big plus point was seeing the effect that Tai Woffinden had on the Under 21 riders that we brought into the group and we look forward to bringing more Under 21 riders into the next Performance Camp."
"I would once again like to thank Nutrition X and Physique Management for their support of the Great Britain Team and our ongoing development programme."
We're planning to have between 6-8 camps this year where we'll be able to track everyone's progress and make sure every rider is maximising their potential to its fullest

Chris Neville, Great Britain Performance Specialist