FLINT'S EURO VISION
LEON FLINT believes Great Britain will keep progressing thanks to a huge medal haul. Over the past five years, the national squad have consistently accumulated Gold, Silver and Bronze gongs on every level of the international stage.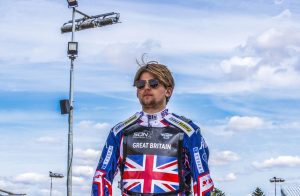 Image courtesy of Taylor Lanning Photography
Now GB face another test in the FIME European Under-23 Team Semi-Final in Stralsund on Thursday against the hosts Germany, Sweden and Czech Republic.
Flint is determined to play a big part in another medal success for his country.
He said: "It's another new track to most of the boys. GB did race here a few weeks back so there will be some knowledge in the camp.
"It's never easy on continental tracks. They always throw up curveballs but that's why the experience is so vital for us all.
"I don't think people realise how important these international meetings are to get experience in set-ups and how tracks change away from the UK. It definitely makes us better riders for every meeting.
"We've got a really young team who have mostly progressed through the British Youth Championship. Now we are fighting for a Gold medal.
"It shows that the system is starting to work. A few years ago we wouldn't have been able to field a team but we are competitive now.
"Obviously we go there to win. All the boys are winners and probably sore losers.
"We got Bronze in the Speedway of Nations 2 last year but that's gone now. We want a better colour of medal this time."
Great Britain team line-up: Tom Brennan, Leon Flint, Anders Rowe, Drew Kemp, Dan Gilkes.