Kappa Announced as Official Kit & Teamwear Supplier
Great Britain Speedway Team has today announced Kappa as 'Official Kit and Teamwear Supplier.' The Italian sports fashion brand, who have signed a multi-year agreement will provide training kit for Great Britain's Senior, Under-23, Under-21 and Academy teams plus official clothing for GB Management and Performance staff.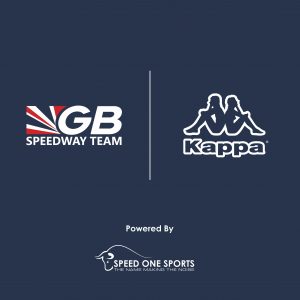 Kappa were founded in 1978 and have supplied kit for some of the world's largest sporting teams across a wide range of sports including the Italian national football team, AS Monaco, Aston Villa FC, Manchester City FC and the Alfa Romeo Racing F1 team.

Rob Painter, Great Britain Speedway Team Managing Director said: "We are extremely proud to partner with Kappa, a globally recognised sports fashion brand with an outstanding reputation for delivering high quality sportswear. Kappa have partnerships with some of the most recognisable sporting teams from around the world and we are delighted to partner with such an iconic brand and join the Kappa family"
Craig Miller, Kappa UK Teamwear said: "Kappa UK are delighted to partner with the Great Britain Speedway Team and Speed One Sports. We are very much looking forward to using our expertise within Sport and Fashion to create market leading product that matches the drive and ambition of GB and the sport as a whole."
Tony Di Ponio, Director of Speed One Sports said: "Combining an industry leading brand such as Kappa with an elite performance team in Great Britain is a very exciting opportunity, one that we are very proud to be an integral part of. Speed One Sports will be delivering the partnership, adding our experience and quality service. I want to take this opportunity to wish Great Britain the very best for the upcoming season."