GB BOOK PLACE IN EURO TEAM FINAL
GREAT BRITAIN boss Olly Allen was full of praise for the professionalism that secured a place in the FIME European Team Grand Final. The national side had to work hard to outgun the hosts Czech Republic by just one point in Pardubice on Sunday morning. Denmark won the event on 49, GB 33, Czech Republic 32 and Ukraine 6.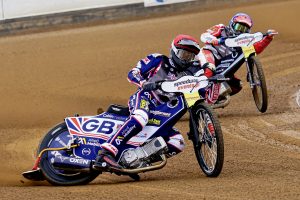 Image courtesy of Steve Hone Photography
Dan Bewley won the final heat to book their spot in next weekend's Final against Poland, Denmark and host nation Germany in Stralsund.
Allen said: "It was tight. At one stage we looked like we were going to make 32 points, that was the target as the highest-scoring second place.
"But it was going up and down because the Czech Republic and ourselves were taking points off each other.
"It was nerve-wracking until the end. Dan (Bewley) came good in the end, that's what made the difference.
"He did really well, it was a high pressure final ride. It was hard for everyone.
"The goal was obviously to qualify for the Final, which we did so that was good.
"All of the boys did some good things. There's more to come from some of them.
"They all showed a good attitude. It was a tricky meeting to get focused for with a lot of uncertainty about when the event would be run due to the weather.
"Once they got to the Pardubice, they acted professionally, got their heads down and did the job.
"These meetings are good for all the boys. They are trying to get as many laps in as possible early in the season and they should all want to do it."
Allen was delighted with the performances of all the team as they bid to push to the next level.
He added: "All the team can be proud of what they did. They've qualified for a European Team Final.

Richie's willingness to race for Great Britain has got him the spot in the team. His behaviour and attitude at the weekend was excellent.

Olly Allen, GB Speedway Team Manager
"The format probably hinders us a little bit because you are only allowed to use one Grand Prix rider.
"We are certainly a stronger side when we can have our three Grand Prix riders.
"But equally the format allows us to use other fringe riders and that has benefitted us over the past couple of years, Tom is a prime example of that and he's come on leaps and bounds.
"It's good that other riders are getting more experience. Tom looked good in Pardubice. It's easy to ride but notoriously hard to be fast on.
"It's another big year for Tom, he's not a junior anymore. He's now not being compared to all the other Under-21 riders, he's being compared to the top riders in the world regardless of age. That's a huge step to take.
"He's prepared really well for the season, his bikes are good and he's also in great shape.
"Richie's willingness to race for Great Britain has got him the spot in the team. His behaviour and attitude at the weekend was excellent.
"He rode one engine for his first rides and then swapped for his last race and was a lot more competitive. He texted me on the way home to say he'd ordered another of the same engine to use in the Final next weekend. That's exactly what I want to hear.
"Adam is also the same. He's a recognised quality rider in Europe. I do believe there's more to come from him. I really hope he goes up another level. He's got the skill set to do it."
Allen admits the final will be an even tougher challenge against Poland, Denmark and hosts Germany.
He continued: "It's a track in Germany that doesn't get used a lot, so it will be open to everybody.
"I'm under no illusions, it will be a tough meeting for us. But we've made the Final and now the target will be to get a medal."