GB BOSS PRAISES FIGHTING SPIRIT
GREAT BRITAIN boss Olly Allen praised the "fight" of his team after a battling FIME European Pairs Final performance.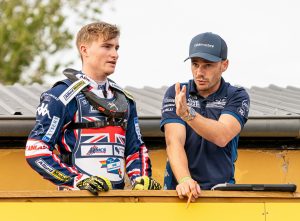 Images courtesy of Steve Hone Photography
Without injured British Champion Adam Ellis, Tom Brennan, Chris Harris and Leon Flint produced a 15-point haul to finish six in Slangerup, Denmark.
It was an event dominated by the Danes on home shale with Czech Republic second and Poland third.
After a huge amount of rain, the track and pits completely flooded and it looked unlikely to even go ahead.
But the staff at Slangerup should be commended for working miracles to get the meeting on.
Allen said: "It was always going to be tough and challenging for us. In the Euro Pairs we have traditionally stuck with the riders who won us through from the semi-final.
"Unfortunately Adam Ellis is still injured from the British Grand Prix. But these meetings are all about building for the future and giving opportunities.
"Tom benefitted hugely a year ago from these events and we drafted in Leon to give him the maximum opportunity for experience.
"It's perfect for them to be around Chris (Harris) at these big meetings to learn how to prepare on different tracks in different countries.
"I felt the boys got stuck in and had a go. There are always so many positives from competing at this level, especially for Leon and Tom.
"These meetings are all absolutely vital in the development of younger riders. Tom definitely kicked-on last year after the experience he gained and we believe that can and will happen with Leon.
"The result wasn't what we wanted, we went to Slangerup seeking to add another medal to the recent Great Britain haul. But nonetheless we were delighted with the commitment shown by the boys.
"They battled for every single point. Gating was absolutely pivotal but they kept fighting and that's all we ask for."
Brennan picked up seven points along with Harris and Flint one point from two rides.
Allen added: "The bigger picture is always the main effort with European events.
"When you look at Tom and Leon just over a year ago they were just on the fringes really.
"Now they have been in Speedway of Nations, ridden as reserves at the British Grand Prix and in SGP2 and delivered excellent results. That's down to the experience gained in European events and being part of the Great Britain set-up."
_____________
DENMARK: 26
R. Jensen: 13
M. Jepsen Jensen: 13
J. Seifert-Salk: 0
CZECH REPUBLIC: 23
V. Milik: 14
J. Kvech: 9
D. Klima: 0
POLAND: 21
G. Zengota: 13
N. Krakowiak: 8
K. Pludra: 0
SWEDEN: 18
V. Palovaara: 12
M. Thoernblom: 5
J. Andersson: 1
LATVIA: 17
J. Kostygow: 11
D. Kolodinski: 7

GREAT BRITAIN 15
Chris Harris: 7
Tom Brennan: 7
Leon Flint: 1

NORWAY: 6
G. Moi: 2
T. Kamhaug: 2
L. Fredriksen: 2