GB CZECH TEST
GREAT BRITAIN co-boss Simon Stead has "high expectations" for the next generation of track stars.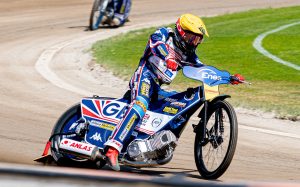 Image courtesy of Steve Hone Photography
The national squad are in action this Saturday in the FIME Under-23 European Team semi-final in Pardubice, Czech Republic.
They will face a stern test against the hosts, Holland and France on the legendary fast circuit just 50 miles from Prague.
Dan Bewley, fresh from top scoring in the Euro Team final in Poznan a week ago, leads the side with Tom Brennan, Drew Kemp and Jordan Palin.
Stead said: "The work that has gone into the national team over the past five years is really starting to come to prominence.
"The really exciting aspect right now is that all these lads have had so much experience and been around a while, yet they are still just 20-years-old.
"Dan has obviously got a couple of extra years on them. But his progress has been sensational. He's now a big star in the Polish Ekstraliga and Grand Prix. It shows the other boys what can be achieved.
"I have high expectations for the next generation. This will be another huge learning curve, especially for Tom, Drew and Jordan. Pardubice is a cracking circuit and they should enjoy it.
"The Czechs will be very strong on their home track. But I do want our boys to be in the mix to win the event.
"Whatever happens it's another great experience for them all. When you consider we have another two or three lads knocking on the door for these team places, it's a healthy situation GB are in now."