GB IN POLE POSITION
Great Britain boss Olly Allen has vowed it's a "huge clash" against Poland at Glasgow.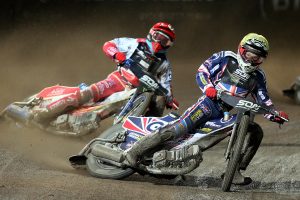 The national squad will take on Poland in a glamorous Global Challenge Series at Ashfield Stadium on October 19.
It will be six-rider teams over a 15 heat format and could include big names Tai Woffinden, Robert Lambert, Dan Bewley, Bartosz Zmarzlik, Maciej Janowski and Dominik Kubera just 48 hours after they compete in the FIM Speedway of Nations in Manchester.
With Discovery Sports Events announcing a return of the traditional World Cup in 2023, Allen is adamant that this test match is vital for progress towards that tournament.
He said: "It's a huge clash for Great Britain, possibly the biggest test for over a decade.
"But, most importantly, it's the first chance we've had to run a Global Challenge since the end of 2019 against Denmark.
"There's little doubt that Poland are the best team in the world as a six-rider team. They have incredible strength in depth.
"I see no reason why we should fear any team in the world. We have so much talent and potential and over the next couple of years we will have the next generation knocking on the door for team places."
It will arguably be the biggest-ever meeting staged at Ashfield Stadium, certainly the most decorated with five World Championship titles between Woffinden and Zmarzlik.
Add in the fact that Woffinden, Bewley and Janowski have just been crowned PGE Ekstraliga champions with Wroclaw in the toughest league in the world, plus Kubera reached two Grand Prix finals and Lambert is already a European Champion.
This is undoubtedly a huge coup for the most ambitious club in British speedway. It won't be the last big meeting at Ashfield with more scheduled in the future as part of the exciting new era of world class racing under Discovery Sports Events.
Glasgow director Peter Facenna admitted: "We are naturally very proud to be able to stage a meeting of this stature.
"Although there has been a big financial investment into the club, this meeting is a credit to the army of volunteers who make the club tick from week-to-week. This is about the passion and dedication of all the people involved in Glasgow Speedway to make this happen.
"I know I'm biased but I believe that Ashfield has become the best racetrack in the UK. I'm aware of how good Belle Vue is, but we have delivered sensational, close racing for some time now.
"It's not just me saying that. The riders who excelled in the Grand Prix qualifier like Tobiasz Musielak, Chris Holder and Nicolai Klindt all felt Ashfield should be a GP track. Those who watched the live stream around the world complimented us on just how good the racing was.
"Now we get the opportunity to see the best in the world battling around Ashfield.
"It is also a hugely significant meeting for Great Britain, we have been proud and delighted to back GB. We believe in their professionalism and goals and will help that as much as we can.
"We just hope that fans around the UK will come to Ashfield, it would be great to pack the place out. It's not been easy in a logistical or financial sense to put this on but we believe it will be worth it.
"We also want Polish fans to support their side. They have come to Glasgow to back Musielak and more recently our excellent signing Marcin Nowak. It has all the ingredients of a fantastic event."