GB KIDS PASS CZECH TEST
GREAT BRITAIN joint boss Simon Stead was delighted with a "strong performance" to win the FIME European Under-23 Team Championship semi-final.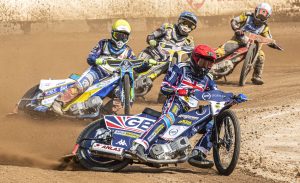 Images courtesy of Taylor Lanning Photography
It was a solid all-round team display for 46 points ahead of the Czechs on 42, France 21 and a Team Europe select side 11 in Pardubice, Czech Republic.
Dan Bewley was the outstanding individual of the afternoon with a 15-point full maximum.
Stead said: "It was a decent test for the young lads and I felt it was a strong performance.
"It's never easy coming to a continental circuit and going up against the local riders. The Czechs have done lots of laps at Pardubice and were dialled in.
"But our lads really stood up to the test and despite a few tricky moments, showed great mentality to come out on top.
"All the team adapted well and dug in when they needed to. It's all about experience at this level and the way Tom (Brennan), Jordan (Palin) and Drew (Kemp) are showing such maturity is very pleasing.
"Dan (Bewley) was simply outstanding. He is now racing at such a high level in such a short space of time. He was an inspiration and a leader all afternoon.
"It's very satisfying to see this next generation of riders coming through. We have now been working with these lads for over five years and to see the progress is excellent.
"Great Britain has also made that huge leap forward in structure. A few years ago we would have even struggled to get a team together for an event like this, now we are winning it.
"There's lots more to achieve but we have the nucleus of a fantastic next generation of riders."
GREAT BRITAIN 46: Dan Bewley 15, Tom Brennan 13, Jordan Palin 10, Drew Kemp 8.
Czech Republic 42: Jan Kvech 15, Daniel Klima 12, Petr Chlupac 11, Bruno Belan 3, Jakub Exler 1.
France 21: Steve Goret 8, Mathias Tresarrieu 6, Tino Bouin 4, Thomas Valladon 3.
Team Europe 11: Celina Liebmann 4, Miran Praznik 4, Mika Meijer 3.