GB WILL COME BACK STRONGER
YOUNG Lions boss Neil Vatcher has vowed they will "continue to work hard" after a tough FIM Speedway of Nations Under-21 World Championship.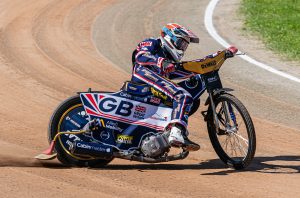 Images courtesy of Steve Hone Photography
Great Britain finished seventh in Riga, Latvia which was the first setback for six years after GB had been on the rostrum since 2018 and collected a plethora of medals at every level.
Vatcher said: "When I came into the job, it was a tough job to come into. We have to continue to work hard with the young riders we have been working with in the youth system to come back and challenge for medals again.
"At this moment in time, it is hard to swallow but we will build again, we have had a really good run of medals and been on the rostrum every year since 2018.
"A lot can happen between then and now, but we will continue working hard. We have the European Under-19 Pairs at Pardubice on September 2, so we will see what happens there. Maybe the guys competing there will be the next generation."
Great Britain opened in style in Riga with an opening race maximum win over the Czech Republic. But it just didn't happen for the young stars from that point.
Vatcher continued: "Anders Rowe was competing with the best and scored some really good points. But unfortunately, it's a team event and Anders couldn't do it by himself.
"I thought I'd give Drew Kemp a go again. I have seen him win races around there before and it was a massive heat for us, I was hoping Drew and Anders would save the day, but Drew had bike issues and it wasn't to be."